Jordan announced on Tuesday that it was reducing its diplomatic ties with Qatar amid a deepening political crisis in the region. After "examining the cause" of the crisis, the Jordanian government also decided to revoke licenses for the Doha-based broadcaster Al Jazeera.
"Achieving regional security and stability, and meeting Arab countries on policies that end the crises of our Arab region....as well as building a secure and enlightened future for our peoples are priorities that the Kingdom will continue to exert its utmost efforts to achieve," said government spokesman Mohamed Moumani in a statement.
Qatar has found itself increasing isolated since Monday, when neighbors Saudi Arabia, Egypt, Bahrain and the United Arab Emirates (UAE) declared that they were cutting off all air, sea and land transport links to the tiny Gulf nation. They also cut off food shipments to Qatar, prompting a dash to supermarkets for residents – although for now it seems that Doha has the economic resources to weather the storm in the short-term.
The west African nation of Mauritania said shortly thereafter that it was also following suit, claiming that Qatar's tolerance towards extremism had "resulted in heavy losses to human life in these Arab countries, in Europe and throughout the world."
Neighbors question Qatari relationship with Iran
Regional powers have accused Qatar of supporting terrorism; more specifically Sunni extremists, the Egypt-banned Muslim Brotherhood and the Shiite-led government of Iran. Qatar decried these claims as "baseless allegations."
The UAE said on Tuesday that it would consider reestablishing ties, but only after it was provided with a "guaranteed roadmap to rebuild confidence after our covenants were broken." Foreign Minister Anwar Gargash said that Qatar had benefited from a mixture of "money and media and partisanship and extremism."
The regional spat has complicated consequences for the West, and especially the United States. Although the US has a large and strategically important military base in Qatar, President Donald Trump has made no secret of the fact that he supports larger regional powers like Saudi Arabia.
This is evidenced not only by a series of tweets defending Riyadh's actions, which he said he hoped would "be the beginning of the end to the horror of terrorism" but also by a large weapons deal with Saudi Arabia secured during Trump's recent trip to the kingdom.
However, in an apparent about face mere hours later, Trump told Saudi King Salman that a united Gulf Cooperation Council, of which Qatar is a member, was "critical to defeating terrorism and promoting regional stability,"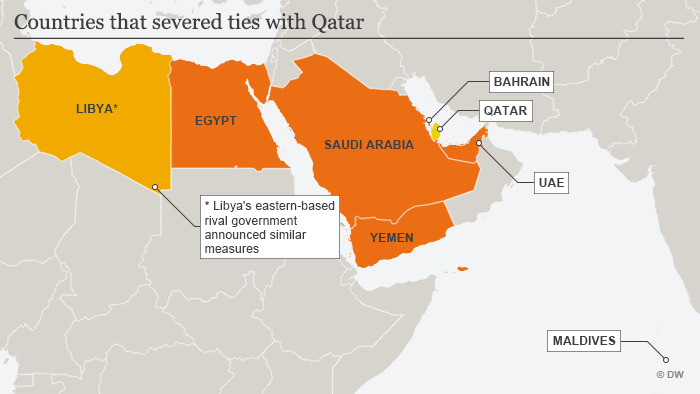 es/jm (dpa, Reuters)