US President Donald Trump on Friday pardoned Joe Arpaio, the self-proclaimed "toughest sheriff in America," after he was convicted of criminal contempt for his department's racial profiling policy.
Arpaio was known for his severe stance on undocumented immigrants and for investigating unfounded claims into President Barack Obama's citizenship. He drew national headlines for massive roundups of suspected illegal immigrants and for reinstating prison chain gangs.
"Sheriff Joe Arpaio is now 85 years old, and after more than 50 years of admirable service to our nation, he is worthy candidate for a presidential pardon," a White House statement said.
"Throughout his time as sheriff, Arpaio continued his life's work of protecting the public from the scourges of crime and illegal immigration."
Trump shared news of the pardon on Twitter.
Read more: Donald Trump slams media at Phoenix rally, thousands protest against him
Systematically stopped Latino drivers
Arpaio was convicted on July 31 for willfully violating a 2011 injunction against his officers from stopping and detaining Latino motorists solely on suspicion that they were in the country illegally. He was due to be sentenced on October 5, facing a maximum jail sentence of six months and a fine.
In court Arpaio claimed the case was a politically motivated attempt by the Obama administration to undermine his re-election bid for Arizona's Maricopa County in November after 24 years in office.
"I have to thank the president for what he has done, that's for sure," Arpaio told Reuters news agency in a brief telephone interview from his Arizona home. "He's a big supporter of law enforcement."
Several civil rights advocates slammed the pardon as an endorsement of racist and unlawful immigration policies.
"Once again, the president has acted in support of illegal, failed immigration enforcement practices that target people of color and that have been struck down by the courts," said American Civil Liberties Union Deputy Legal Director Cecilia Wang, who sought the court injunction against Arpaio.
Vanita Gupta, president of the Leadership Conference on Civil and Human Rights and former head of the US Justice Department's civil rights division, said in a statement that the pardon sent "a dangerous message that a law enforcement officer who abused his position of power and defied a court order can simply be excused by a president who himself clearly does not respect the law."
Read more: Donald Trump claims he has 'complete power' to pardon
Gorka gone
Meanwhile, White House national security aide Sebastian Gorka left his position on Friday, just weeks after chief strategist Steve Bannon was ousted. Reports differed on whether he resigned the post or was fired.
Gorka wrote in a statement that "the individuals who most embodied and represented the policies that will 'Make America Great Again,' have been internally countered, systematically removed, or undermined in recent months."
Read more: Donald Trump's chief strategist Steve Bannon leaves the White House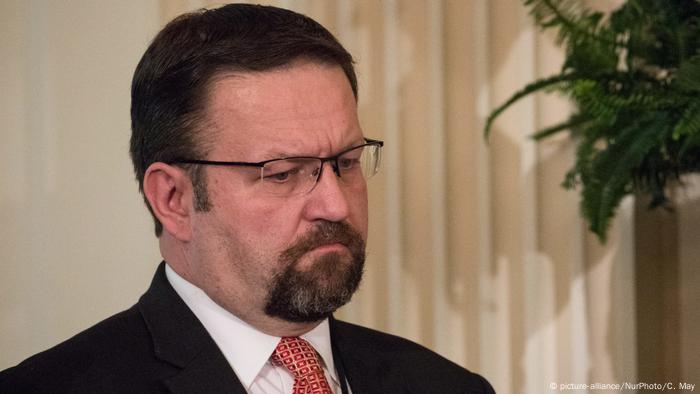 Just days after a group of Democrats called for his head, Gorka left the White House
Several lawmakers had intensified their questions about Gorka in the wake of the Charlottesville neo-Nazi rally.
A group of Democrat senators had written to senior administration officials on Monday seeking confirmation on whether Gorka was under criminal investigation for failing to disclose his membership in a Hungarian neo-Nazi organization.
"As a senior counterterrorism advisor, Mr. Gorka is in a position of great importance and public trust. The American people are entitled to know if a senior White House official is under criminal investigation," Senators Dick Durbin, Richard Blumenthal and Benjamin Cardin said in the letter.
In March the group alleged that Gorka had "concealed his membership in the Vitezi Rend, a far-right anti-Semitic Hungarian organization with historical ties to the Nazis, when he applied for U.S. citizenship."
They said the letter was a follow-up to another letter they sent in March calling for an investigation of whether Gorka had "falsified his naturalization application or otherwise illegally procured American citizenship." In Monday's letter they repeated their concern at Gorka allegedly having concealed his membership in the neo-Nazi organization.
Civil rights groups welcomed the departure of Gorka. The Leadership Conference on Civil and Human Rights, an umbrella organization for US civil rights groups said in a statement his departure was long overdue.
aw/kl (Reuters, AP)