Europol, Europe's top law-enforcement organization, said in its annual EU Terrorism Situation and Trend Report that 718 suspects were arrested on offenses relating to jihadi terror in 2016, up from 395 in 2014.
The number of attacks dropped from 17 in 2014 to 13 last year, six of which were linked to the so-called "Islamic State"(IS) group.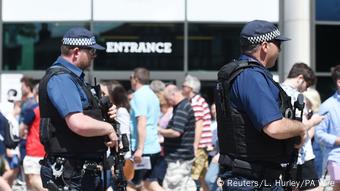 Security has been stepped up in the UK following recent attacks
The report noted that women and children, as well as young adults, were playing an increasingly important operational role.
One in four of those arrested in Britain in 2016 were women, an 18 percent increase from 2015, Europol said.
"Female militant jihadists in the West perceive fewer obstacles to playing an operative role in a terrorist attack than men, and successful or prevented attacks carried out by women in Western countries may act as an inspiration to others," the report said.
In total 1,002 arrests were made in 2016 relating to terror activities. France had the highest number of arrest at 456, with almost a third of those detained 25 years or younger, Europol said.
There were 142 "failed, foiled or completed terrorist attacks" including those by jihadis, more than half of them in the UK.
Syria, Iraq as inspiration
Explosives mimicking those used in Syria and Iraq have become a leading threat to the EU, along with returning fighters, the report said.
The report noted that governments are paying close attention to the use of drone explosives by jihadi groups in Iraq, as homegrown extremists seek to replicate the weapons used there.
The bomber who struck at an Ariana Grande concert in Manchester last month, for example, used a backpack bomb packed with bearings and other small pieces of metal, similar to bombs used in attacks by al-Qaida and IS extremists.
The suicide bombing in Manchester on May 22 killed 22 people. Two weeks later, a knife and van attack in central London left eight dead.
"The kind of attacks that ISIS have used in the conflict zone, including car bombs perhaps and others, if that technical capability is known within the organization then clearly there's potential for that to be transferred into a European scenario," Europol chief Rob Wainwright told The Associated Press, using an alternative acronym for IS.
"Although one shouldn't underestimate, either, the difficulty in doing that on a consistent basis."
Many Europeans have left IS after growing disenchanted with life under war, if not the brutality of the extremists themselves, Wainwright said.
The concern is how to distinguish them from others who are returning clandestinely to form new networks, he added.
"It's a reflection of the very serious threat that we face in Europe and a reflection of the fact that I'm afraid we can't get that threat down to zero," Wainwright said.
Need for international cooperation
The report noted the need for closer cooperation in intelligence sharing among member states.
"Terrorists do not respect or recognize borders," the EU's safety chief Julian King said in the report. "In our resolve to defeat them we must draw on a newfound determination to work together, sharing information and expertise."
Not all attacks were jihadi-inspired, with the majority of other attacks carried out by "ethno-nationalist" and separatists extremists. For example, dissident Republican groups in Northern Ireland were involved in 76 attacks, the report said. This lead to 123 arrests.
jbh/cmk (AFP, AP)