"We are the champions," Button sang – albeit out of key – from his cockpit after crossing the finishing line and capturing the title with one race left in the season.
"It's really amazing especially after the last few weeks. It was such an awesome race. When I first jumped in a car 21 years ago I never expected to be world champion - but we did it today," the 29-year-old Brit told reporters after the race.
After Button's opening win at the Australian Grand Prix, his wire-to-wire triumph turned into a case of the tortoise and the hare in the second half of the season, as he survived the intensifying pressure around him.
But he continued to collect points and took the title with a solid drive in Sunday's dramatic 71-lap race.
Disappointment for Vettel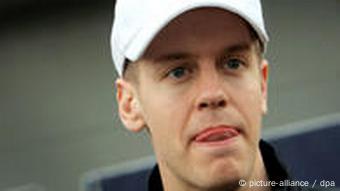 German F1 fans had their hopes in Vettel
Sunday saw German Sebastian Vettel's hopes of glory vanish. The young gun Red Bull driver came in fourth ahead of Button, giving him a season total of 74 points and placing him in second place in the standings for the time being.
In the end, heavy traffic and a late puncture kept the German out of contention, with Australian Red Bull driver Mark Webber taking the Brazilian title. Polish BMW driver Robert Kubica took second in the race, while the British Mercedes driver Lewis Hamilton came in third.
Swiss Sebastien Buemi of Toro Rosso was seventh and the local hero, Brazilian veteran Rubens Barrichello, eighth after starting from pole position.
glb/AFP/Reuters/dpa
Editor: Ranty Islam