Florida's former governor Jeb Bush formally joined the 2016 presidential field on Monday in Miami.
The 62-year-old, who is the brother and the son of two former US presidents, is now one of 10 other Republican candidates vying to win the party's nomination for the big post next year.
Bush announced the beginning of his campaign for US president in an address at Miami-Dade College. He was accompanied by his wife, Columba, his son, George and his mother, former First Lady Barbara Bush. His choice of venue was also being seen as a signal that he aims to run an inclusive election campaign.
He suggested his voters should seek someone with executive experience to succeed President Barack Obama. He highlighted his work in Florida saying it was now "number one" in both job and small business creation.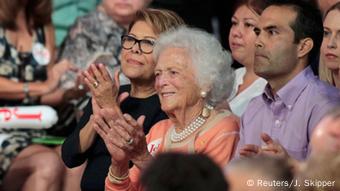 Columba Bush (left), Barbara Bush (center) and George P. Bush (right) at Jeb Bush's speech in Miami
'America deserves better'
Bush targeted his contemporaries in Washington, blaming its leaders for the "slowest economic recovery ever" and a massive tax increase. "America deserves better," Bush said, promising an economic growth of four percent if he were to become president.
The US would be an "economic superpower like no other," he told the crowd, who cheered and applauded as he spoke.
In a speech interspersed with Spanish phrases and sentences, the Republican candidate highlighted his understanding of the immigrant societies in the US. Referring to the US' thawing relations with Havana, Bush said his government would be in solidarity with a free Cuban people.
He would "run with heart" and "run to win," Bush said, as he completed his speech to a thundering applause.
Jeb Bush will have to face a crowded field of Republican presidential contenders in the race to become the party's presidential nominee including senators Ted Cruz, Rand Paul, Lindsey Graham and Marco Rubio.
His likely opponent in the presidential election should he win the nomination is Hillary Clinton, who currently does not have any close competitors among the Democrats.
mg/bw (AP, Reuters)