After more than 117 hours of deliberations stretching over several months, a special committee of the Japanese parliament's lower house adopted a package of controversial security laws on Wednesday, July 15. The bills are now expected to be cleared in the lower house - where the governing coalition commands a two-thirds majority - as early as Thursday, July 16.
The legislation is part of Prime Minister Shinzo Abe's efforts to reinterpret Japan's strict postwar pacifist constitution.
The issue has led to emotional political debates in Japan. A number of MPs yelled and held up placards during the vote to show their opposition to the bills. On July 14, around 20,000 people participated in a demonstration held in Tokyo protesting the bills.
Abe's aim has been to restore Japan's full sovereignty 70 years after World War II. But the path to achieve it in Japan is controversial, both legally and politically.
Last year, Abe's cabinet re-interpreted Article 9 of the constitution - which renounces the right to war - arguing that the country did indeed have a right to collective self-defense. By doing so, Abe evaded a parliamentary vote followed by a referendum, both of which are needed to amend the constitution.
No comprehensive changes
During a speech to the US Congress back in April, the premier promised to make comprehensive changes to the security laws by the summer. His goal is to allow Japan's Self Defense Forces to fight alongside its sole military partner, the United States, as well as other countries in case the survival of Japan is clearly under threat.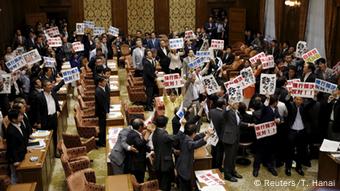 Opposition lawmakers protested against the security bills tabled by the Abe government
According to the current interpretation of the country's constitution, such joint military operations are not permitted, not even in the case of an attack on Japan. But contrary to Abe's announcement in Washington, the new security laws come with only minor changes.
While the legislation allows for closer military ties with the US and other countries in the region such as Australia, Robert Dujarric, political analyst at Temple University in Japan, believes it would be unrealistic to think that this would force Japan into every single military conflict the US might get involved in.
And while the laws enable Japan to take part in UN peacekeeping missions, Tokyo won't be allowed to deploy combat troops. Nevertheless, a recent survey conducted by Nihon TV shows that 59 percent of participants reject the latest changes, while only 24 percent support them.
Losing public support
In the meantime, Abe's approval ratings have dropped to their lowest point since he took up his second term in office in 2012. "We haven't managed to get the message across," said Shigeru Ishiba, a member of the ruling Liberal Democratic Party.
Legal pundits, in particular, have a negative view on the matter: "98 percent of experts regard the laws as unconstitutional," said Yasuo Hasabe, constitutional expert at Tokyo-based Wasena University.
Tokyo University's Kenji Ishikawa spoke of a "coup d'état," and Sota Kimura of Tokyo City University referred to the move as "endangering the rule of law." And famed director and pacifist Hayao Miyazaki recently expressed what is probably in the minds of a silent majority in the country: "I think it's impossible to stop China's expansion with military force, and Japan has a pacifist constitution in order to think of other solutions."
Miyazaki's statements strike a nerve of the conservative government, as Abe's new defense policy is actually about counterbalancing - alongside the United States - China's growing power and assertiveness in Asia.
At the same time, Tokyo hopes that Washington is increasingly willing to fight alongside Japan in the case of a military conflict over the disputed Senkaku/Diaoyu islands. Nonetheless, Abe avoided directly naming China as an adversary in order to keep ties with Beijing from deteriorating further.
So far the premier has only mentioned one scenario in which Japan's armed forces could be deployed abroad: a blockade of Japan's oil supply in the Strait of Hormuz, which connects the Arabian Sea and Persian Gulf.
However, this scenario seems rather unrealistic given that Japan no longer depends as much on Arabian oil as it used to. Moreover, the PM's party comrades recently blocked the release of this year's defense white paper, arguing that the document should give more prominence to China's hegemonic ambitions in the region and Beijing's island-building in the South China Sea.