You could be forgiven for taking it easy once you've turned 100, but Mieko Nagaoka from Ehime, western Japan swam a 1,500-meter freestyle race instead. And made history. She is the first person in the 100 to 104-year-old category to complete the race. It took her just under 1 hour and 16 minutes.
Admittedly, it's a more leisurely pace than that set by 18-year-old US swimmer Katie Ledecky, who holds the women's world record of 15 minutes 28.36. Nagaoka, who only took up the sport at the age of 80, told the Kyodo news agency: "I want to swim until I turn 105 if I can live that long."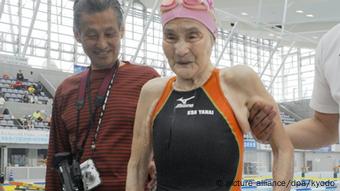 It wasn't the first 1,500-meter race for Nagaoka
Her achievement is expected to be recognized by Guinness World Records, the agency reported.
Japanese people have one of the highest life expectancies in the world. Government figures from last September counted 59,000 centenarians in Japan, which means 46 out of every 100,000 people are 100 years or older.
Japanese sprinter Hidekichi Miyazaki - known as "Golden Bolt" - was 103 when he bagged the world record for the 100-meter dash in the 100-104 age category, at a respectable 29.83 seconds.
ng/kms (AFP, SID)