Over 100 Japanese lawmakers were in attendance Wednesday, including those convicted of war crimes by allied tribunals after World War II.
Japanese Prime Minister Shinzo Abe was notably absent from the commemoration, choosing instead to send religious offerings in a move less likely to provoke rebuke from China, which bore the brunt of Japan's wartime aggression. No Japanese cabinet ministers took part in the ceremony.
The shrine honors Japan's 2.5 million war dead along with war criminals, among them wartime leader Hideki Tojo.
Past visits by Japanese leaders to the Yasukuni shrine have have raised the ire of China and South Korea. The White House also criticized Abe's last visit to the shrine in 2013.
Neighboring countries - victims of Japanese aggression during World War II - have come to view the shrine as a symbol of Japanese militarism. Visits to the shrine by politicians have been construed as showing lack of remorse for Japan's past crimes.
Seoul condemned the Wednesday commemoration.
"We can't help expressing deep disappointment and regret over the visit by leading Japanese lawmakers to Yasukuni Shrine, which glorifies Japan's colonial aggression and the aggressive war," the South Korean foreign ministry said in a statement.
But lawmakers who took part in the cermony have defended the ritual.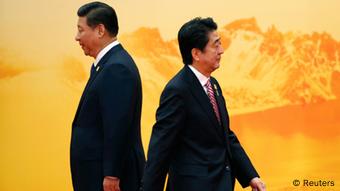 Abe and Xi last met in November in Beijing
"The spirts of the war dead - they died for their country, with the thought of their country in mind. I believe they are praying for their country to be in peace," said Hidehisa Otsuji, who leads a group of lawmakers fighting for officially sanctioned visits to the shrine.
"I feel very grateful anew that we have maintained peace for 70 years," Otsuji added.
Abe, Xi to meet in Jakarta
The commemoration comes as Japanese broadcaster NHK reported final arrangements were being made for Abe to meet Chinese President Xi Jinping on the sidelines of an Asia-Africa summit in Indonesia on Wednesday.
Abe is scheduled to speak at the summit, and his remarks concerning Japan's World War II history will be closely scrutinized.
A meeting of the two leaders could signal a continued thaw in relations between the two Pacific powers that began when Abe and Xi met at a Beijing summit late last year.
bw/kms (AP, Reuters, AFP)