Turkish President Recep Tayyip Erdogan told lawmakers on Tuesday that Turkey had "strong evidence" the murder of Saudi dissident journalist Jamal Khashoggi was planned in advance by Saudi officials, contradicting Saudi accounts that the journalist died accidentally in a "fistfight" in the Saudi consulate in Istanbul.
The Saudi government's alleged involvement in the journalist's death has caused an international outcry and prompted Germany to halt arms sales to the country.
What did Erdogan say?
Turkey has strong evidence that Saudi officials planned Khashoggi's murder days in advance.
Saudi team visited forest in Istanbul and Yalova before Khashoggi's disappearance on October 2.
Consulate security cameras were removed.
A day before the murder, a number of forensics, intelligence specialists arrived in Istanbul
A Saudi team of 15 entered the consulate on the day of Khashoggi's murder.
Eighteen people arrested in Saudi Arabia in relation to the murder matches those identified by the Turkish intelligence.
Khashoggi was killed in a violent, savage murder.
He had no doubt to question the integrity of the Saudi King.
The issue of diplomatic immunity under the Vienna Convention would be discussed in regards to the case.
The suspects should be tried in Istanbul and not in Saudi Arabia.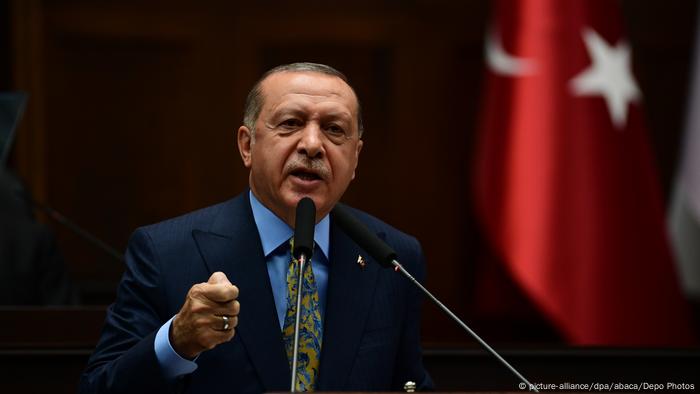 Erdogan said Khashoggi was violently murdered
Only Turkey knows: Turkish Foreign Minister Mevlut Cavusoglu said hours before the speech that Turkey had not shared any information about the case with other countries. He added however that Ankara would be willing to cooperate with an international probe. Saudi Foreign Minister Adel al-Jubeir told reporters that such a killing must "never happen again" and promised a thorough investigation into Kashoggi's death.
Read more: Jamal Khashoggi: A mysterious disappearance and death
Turkey-Saudi rift: Relations between the two Middle Eastern countries were already strained amid disagreements over the conflict in Syria. DW's Istanbul correspondent Dorian Jones says the Turkish president's revelations could worsen ties even further: "If Turkey has information linking the crown prince to the murder, the kingdom could face its worst crisis in decades."
Read more: Jamal Khashoggi's murder through the lens of Middle Eastern media
A mysterious death: Khashoggi went missing on October 2 after entering the Saudi consulate in Istanbul to pick up marriage documents. Turkey says it had a recording that proves the journalist was murdered and dismembered within the consulate. Saudi Arabia initially said Khashoggi had left the consulate after the appointment. But on Saturday, it admitted Khashoggi had been killed in a fistfight during a "rogue operation," and that it was investigating the murder.
World skeptical over Saudi claims: German Chancellor Angela Merkel has dismissed the Saudi government's explanation as "insufficient" and ordered a temporary pause in arms sales to the country. US President Donald Trump and French Foreign Minister Jean-Yves Le Drian have also voiced scepticism about the explanation. The director of the US Central Intelligence Agency, Gina Haspel, has arrived in Turkey to help investigate Khashoggi's death, according to Reuters news agency.
'Cold blooded' murder: Khashoggi's Washington Post editor, Karen Attiah, told DW that the journalist suffered "unbearable oppression" from the Saudi authorities. She said the global response "sends a message to journalists around the world about whether regimes can get away with murdering them in cold blood."
Who was Khashoggi? The 59-year-old journalist had worked as a government adviser in Saudi Arabia. In recent years, he became a prominent critic of the Saudi government and the kingdom's 33-year-old crown prince, Mohammed bin Salman. He lived in the United States prior to his death and wrote a monthly column for The Washington Post.
amp/rt (dpa, AFP)
Each evening at 1830 UTC, DW's editors send out a selection of the day's hard news and quality feature journalism. You can sign up to receive it directly here.