What would he look like today? Would he still wear his scuffed leather jacket, mustache and big, shapeless glasses? Would he be talking about the grand coalition in Germany and the insipid contemporary literature? Or maybe Jörg Fauser would be sitting alone in a Berlin bar with a glass of whiskey in his hand? What would have become of this subterranean romantic and brilliant observer had he not have been hit by a truck in 1987 the night after his 43rd birthday while walking drunk on a Munich motorway?
Real life
Fauser hated mediocrity and lived a life of excess that informed his writing. Poems, lyrics, opinion pieces, reports, novels — almost everything he experienced flowed into his texts. He idolized the Beat authors such as Jack Kerouac and William S. Burroughs and infused German literature with their simple, concise yet daring style. While radical "Group 47" authors of the post-war years fervently critiqued the new Federal Republic of Germany at readings, Fauser threw himself into real life and transformed his unfiltered experiences into literature.
"This German porridge, that sticky gravy that they serve with their cultural production, and this sauce tasted so bad because it was prepared from the remnants of political illnesses, from the surviving doctrines of the century, and enriched with the political fashion concepts of each season."
Raw Material is Fauser's most renowned and arguably most accomplished work. It is also openly autobiographical, with anti-hero Harry Gelb created as Fauser's alter ego.
In the novel, young Gelb is a junkie hanging out in Istanbul after escaping the insipid postwar Germany of the 1960s. He then withdraws from heroin and replaces that vice with alcohol.
Returning to Germany, Gelb works as a night watchman and airport baggage handler since the casual jobs give him time to write. He lives in a Berlin commune filled with leftist protesters and revolutionary student groups. But he soon realizes that behind the subversive facade there is also an obligation to fit in. The loner is disgusted by the hierarchies and doctrinaire attitudes of the time.
"They were all the same, communists, Nazis, parents, church, book reviews, features section, editorial, revolutionary struggle, Baader-Meinhof, capital, television, Club Voltaire, pacifism, guerrilla, Mao, Trotsky, Red Student Action, the underground scene and Germania Security. They were all part of the same idea, they knew how things ought to be, they had a monopoly on consciousness, love, human happiness."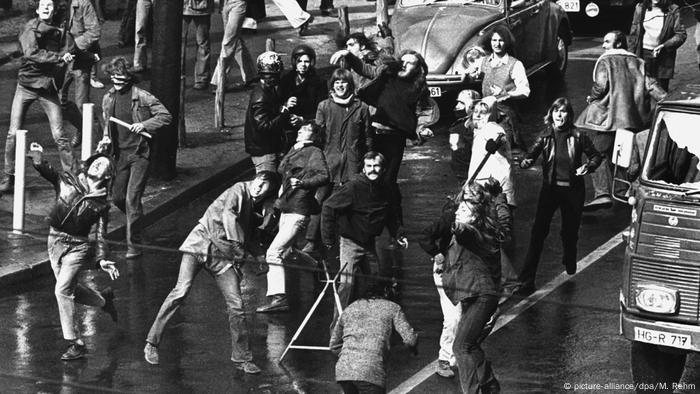 Fauser witnessed the squatters' and student movements first-hand in Frankfurt in the 1970s
Driven by restlessness
Fauser once said that even among outsiders he never really fit in. It was this sense of discomfort and restlessness that drove him to write. It also drove him to heroin addiction and substance abuse.
Raw Material is not only fast-paced and witty but also highly poetic, as this depiction of Frankfurt, where he lived in a squat, shows:
"In the twilight, with the slim silhouettes of the tower blocks against the reddish horizon and the smoking factory chimneys by the River Main, the city offered a view which compensated for many a bitter hour. Pigeons cooed affectionately. And beneath every roof stories were being lived that were waiting to be written."
Fauser well knew Frankfurt's cityscape as it faded into night, and also how people looked in the glaring neon light of a Berlin dungeon. His authentic, raw and undiluted literary oeuvre has long made him a lone voice in German-language literature.

Jörg Fauser: Raw Material, Serpent's Tail, (German title: Rohstoff, 1984). English translation: Jamie Bulloch.
Born in Bad Schwalbach in 1944, Jörg Fauser became a reviewer for Frankfurt magazines, and an underground author who lived as a junkie in Istanbul, a communist in Berlin in 1968, a squatter in Frankfurt, and later as a journalist and copywriter. He died in 1987 on the day after his 43rd birthday when he was hit by a truck on a highway near Munich.