Italians affectionately call him "the professor" and appreciate his level-headedness. His fans are captivated by his knowledge and expertise. Romano Prodi knows how to keep up good relations with people. That quality has proven to an important strength in the campaign set to end when voters cast their ballots in Italy's April 9-10 general election.

Despite his academic standing, he doesn't come across as being conceited or snobbish. He traveled by bus, for instance, throughout his campaign tour in 1996. The 66-year-old is considered to be center-left in his politics and appeals to people to refocus on the values laid down by the Italian Constitution, such as religious freedom and respect for the common good.
The family man
Romano Prodi's large family has influenced him the most. He was born on Aug. 9, 1939 as the eighth of nine children in Scandiano, Italy's "red" Emilia-Romagna region long administered by Communists. His father was an engineer, his mother, a teacher. Prodi married Flavia Prodi Franzoni, a university teacher, in 1969. The couple have two sons. "I like being in the midst of a lot of people -- there are 55 of us altogether in my family."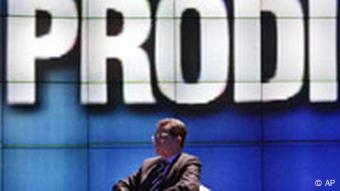 Prodi on an Italian state television talk show
After graduation from high school, Prodi took a degree in law with distinction in 1961 and then pursued postgraduate studies at the renowned London School of Economics. From 1963-1969, he was assistant professor, then professor of industrial organization and industrial policy at the University of Bologna.
Getting Italy euro-ready
Prodi entered politics at the end of the 1970s as a non-partisan and was appointed industry minister in Giulio Andreotti's government.
The economics expert made a name for himself as chairman and reorganizer of the state-run holding company called the Institute for Industrial Reconstruction (IRI), preparing the company for privatization.
Prodi made the leap to political power in 1996 when he founded the Ulivo (olive tree) center-left coalition. He was the first politician in postwar Italy to build a government with politicians from the left.
As prime minister from 1996 to 1998, he secured Italy's place in the first wave of countries to adopt the euro by pushing through a drastic savings program. In 1998, the Communists led by Fausto Bertinotti failed to support Prime Minister Prodi and brought down his government after he had been in office just two and a half years. The leftist coalition had to withstand several crises, reorganized the government and, in 2001, lost in parliamentary elections to Silvio Berlusconi's center-right coalition.
Unfilled expectations in Brussels
Prodi's ready to govern Italy
Romano Prodi was faced with a new political challenge in 1999. European Commission members had collectively resigned in March due to allegations of fraud, mismanagement and nepotism in the EU's executive body. Prodi took up the post of president of the European Commission that year -- which he held until 2004 -- with high hopes of sweeping reforms.
Yet the politician who had earned his laurels early on had a hard time fulfilling the high expectations in Brussels. Even before he moved to the EU capital, he had been dubbed a "tender power player" in Rome. Prodi was not the eloquent, "great communicator" necessary for conveying the idea of Europe and mediating between EU member states.
Calls for resignation
In 2002, Prodi reaped Europe-wide dissatisfaction and hardly concealed calls for his resignation when he described the European Stability and Growth Pact -- the rules that underpin the euro -- as "dumb" and demanded a more flexible plan. As commission president, his remarks compromised his own institution's credibility and capacity to act. Financial inconsistencies at the European statistics agency Eurostat in 2003 also did not reflect well on Prodi.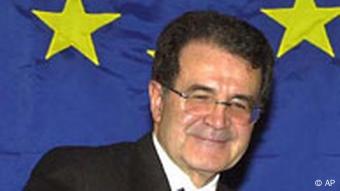 Not always popular as European Commission president
During Prodi's tenure as head of the Commission the EU grew to include 10 mainly former communist countries. The back and forth over the bloc's first constitution also took off. Though all EU member states signed the draft constitution, its future has been in doubt ever since voters in France and the Netherlands rejected it.
Difficult departure
Prodi didn't gain much support from the European Council for a second term. He had already been vehemently criticized for his publication Europe: The Dream and the Choices, which many considered to be more of a report on Italian domestic policies rather a discussion of European topics. Prodi was accused of abusing his power as head of the Commission to pursue his political career in Italy. The German daily Frankfurter Allgemeine Zeitung wrote that despite hostilities and predictions that he would leave office prematurely, Prodi "displayed a great deal of staying power," yet also left behind the impression that he was a man who "tended to go it alone and who lacked trust in his instincts."
A return to Italian politics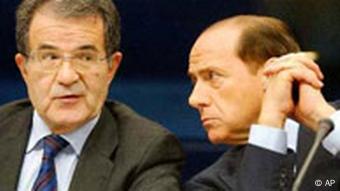 Forever at odds: Silvio Berlusconi and Romano Prodi
In contrast to Silvio Berlusconi, Prodi has been rather modest during his campaign appearances in Italy. He has focused on facts and arguments rather than appearances, stressing that he will get Italy back on track. He's counting on Italians' trust in his capabilities. He has said the country must overcome its recession and tackle its oppressive budget deficit. And he has been critical of the current government: "In the past few years, the rich have got richer, the poor, poorer." Prodi has said promising to develop the country's economically weak South.
Romano Prodi's reputation as a serious politician is supported by the numerous academic awards of recognition he has received from around the world and by the many reports on political economics and industrial policy he has published. Even if his style of political leadership and his ability to assert himself are debatable, he has never been involved in scandals which could compromise his credibility and incorruptibility.