Antonioni made only about 20 films in his career, including his best-known and most commercially successful work, "Blow Up." That movie, made in England in 1966, won the Palme d'Or at the Cannes film festival.

With their chaotic, modernist sensibilities, "Blow Up" and other seminal Antonioni works, such as 1970's "Zabriskie Point," influenced some of the world's most innovative directors.

US director Martin Scorsese has called Antonioni "one of the greatest film directors as well as one of the greatest artists of the 20th century."

Screen painter

And German director Wim Wenders, who paired up with Antonioni for the 1996 film "Beyond the Clouds," once called him "the screen's greatest painter."

Wenders' reference to painting was not casual. As well as being a writer and a painter, Antonioni's work was characterized by images, rather than language, as a means of communicating to the viewer. And unlike most of his colleagues, Antonioni was more concerned with the difficulty of communication, with the alienating and angst-provoking forces of modern life, rather than with neat narrative.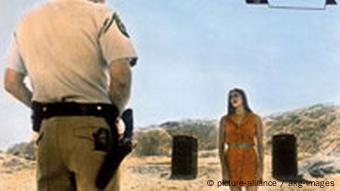 A still from Antonioni's lauded film "Zabriskie Point"

"Blow Up," about a photographer who comes to wonder whether he has witnessed a murder or not, perhaps best epitomized his approach to filmmaking. In the final scene of the film that gave him international celebrity status, for instance, a group of youngsters plays tennis with an imaginary ball.

Responding to critics who tried to make sense of his images, Antonioni once said, "What you see on the screen doesn't represent my exact meaning, but only my possibilities of expression, with all the limitations implied in that phrase."

Further awards

In addition to the Palme d'Or, Antonioni won other film awards, including the 1964 the Venice film festival's Golden Lion for "Red Desert," as well as a career Golden Lion in 1983. He never won an Oscar for a given film, but was awarded a career Oscar in 1985.

Born in Ferrara, northern Italy, on Sept. 29, 1912, into a well-to-do family, Antonioni excelled in economics at the University of Bologna.


He started out as a film critic for a local magazine before moving to Rome to study at the Experimental Cinema Center, where he learned his craft working alongside Roberto Rossellini and Lucchino Visconti.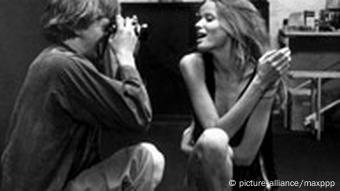 "Blow-Up" brought Antonioni his first commercial success

By 1942 he was in Paris, where he assisted Marcel Carne in the making of "Les Visiteurs du Soir" before becoming the co-screenwriter of Roberto Rossellini's "A Pilot Returns."


The following year Antonioni made his first documentary, "The People of the Po," and went on to make his first full-length film, "Chronicle of a Love," in 1950.

Other Antonioni features include the trilogy "The Adventure" (1959), "The Night" (1960) and "The Eclipse," and his 1975 work "The Passenger," starring Jack Nicholson.

Partially paralyzed by a stroke in 1985, Antonioni was feted by the Italian cinema world when he turned 90 in 2002.

He lived in Rome with his wife, Enrica Fico, who was by his side when he died, Italy's ANSA news agency reported.