Police used tear gas, dogs and batons to push back crowds celebrating Istanbul's 16th gay pride march on Sunday. People carrying rainbow flags and banners had been marching down the city's central Istiklal shopping street as part of the pride celebrations. Police had permitted the organizers to read a statement before being ordered to disperse. "We do not recognize this ban," they said, calling it "comical."
"We do not obey, we do not shut up, we are not afraid," many chanted. Some people affected by tear gas washed their faces while others took shelter in the buildings along the side streets of Istiklal.
Fighting 'violence and discrimination'
Istanbul's governor banned the march "unlawfully" for the fourth consecutive year, according to organizers. "The governor has once again committed a crime by discriminating against a specific part of society." The march was intended to fight "violence and discrimination" against the lesbian, bisexual, transgender and intersex community (LGBTI).
"Peacefully gathering and marching are rights under domestic and international laws that the governor of Istanbul must uphold," Amnesty International said.
Read more: Istanbul bans LGBT parade, citing public safety concerns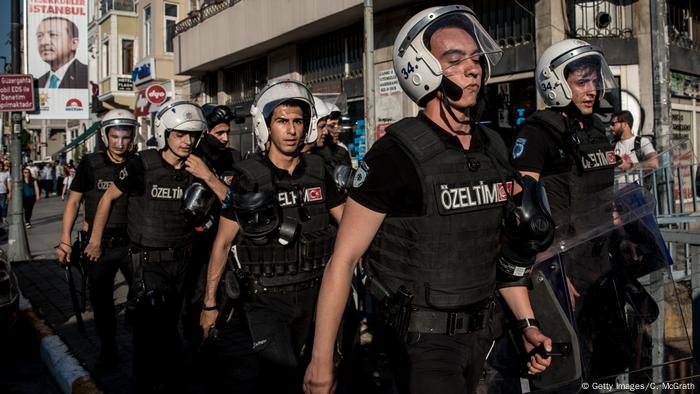 Riot police walk through an Istanbul street after dispersing LGBT supporters
Homophobia widespread
Istanbul Pride took place without incident for more than a decade; however, it was last allowed in 2014 and has since been banned by the authorities. Last year the city's governor cited concerns about the "security of citizens and tourists" and "public order" after an ultranationalist group threatened the march with violence.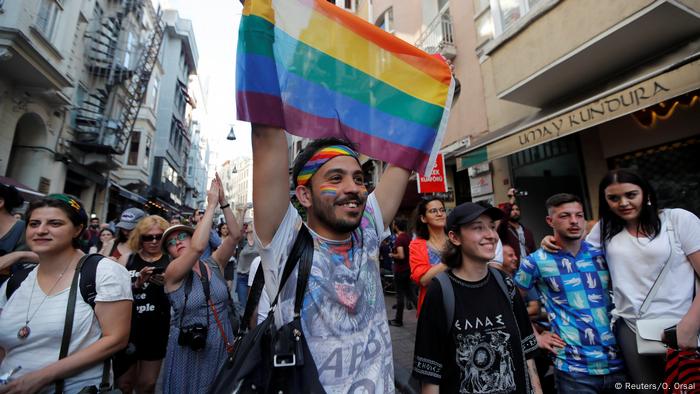 Gay pride parade in central Istanbul, Turkey
Being gay is not crime in Turkey, unlike in many other Muslim countries, but homophobia remains widespread. Critics accuse President Recep Tayyip Erdogan and his Islam-orientated Justice and Development Party (AKP) of showing little interest in expanding minority rights and being intolerant of dissent.
Every evening at 1830 UTC, DW editors send out a selection of the day's hard news and quality feature journalism. You can sign up to receive it directly here.
kw/ng (AP, dpa)