Israeli police detained "Washington Post" staff member William Booth while he was reporting at a recent flashpoint in East Jerusalem.
Booth was interviewing Palestinians at an entrance to Jerusalem's Old City known as the Damascus Gate, which has been the scene of violent clashes in recent days.
Both he and his translator were detained by police and taken into custody despite his showing border police his press card. A pedestrian accused the Jerusalem bureau chief of inciting violence, according to police spokeswoman Luba Samri.
"A passer-by complained that he saw a number of people intending to stage a provocation and disruption of order of young Arabs aimed at police officers in the area, allegedly for propaganda purposes," Samri said.
"In light of the complaint, officers detained a number of suspects to clarify the facts in a discreet and sensitive manner at a nearby police facility," she said, stressing Booth was released a short time later.
Nonetheless "Washington Post" Foreign Editor Douglas Jehl told DW: "We regard the detention of any of our journalists anywhere as extremely troubling."
Trampling press freedoms
Such detentions are generally regarded as a flagrant violation of press freedoms, and Booth's "Washington Post" colleague, fellow Jerusalem correspondent Ruth Marks Eglash, tweeted her outrage that police harassed a journalist who was only doing his job.
Booth said that he and his colleague were held for about half an hour and then released without charge. He added that one officer told him he had been suspected of "incitement."
The Israeli government's press office issued a statement later saying it "regrets today's incident at Damascus Gate in which a correspondent for the Washington Post was unnecessarily detained by the Border Police."
The incident was "probably the result of an unfortunate misunderstanding," according to the statement.
"Israel is doing its utmost to enable the foreign press to work freely, without any pressure," it said. "We call upon the security forces and journalists to act with restraint and to avoid confrontations during these tense times."
The foreign ministry also expressed its regrets.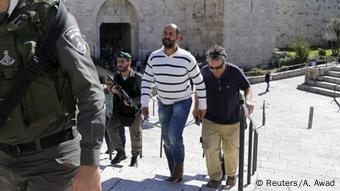 The Post's Booth being taken into custody in Jerusalem
"This is a regrettable incident, casting an unnecessary shadow over the work of an excellent journalist," Israeli Foreign Ministry spokesman Emmanuel Nahshon said. "The Ministry of Foreign Affairs will ask the police for the necessary clarifications."
The expressions of regret, however, run counter to recent Israeli attempts to clamp down on media freedoms.
Last week a parliamentary subcommittee debated media coverage of the ongoing violence in Israel, and some members of parliament accused the press of being biased against Israel.
bik/kms (AP, AFP, dpa)