The Jaffa Theater has for some time enjoyed a reputation as Israel's most subversive stage. Israel's culture minister Miri Regev, a member of prime minister Benjamin Netanyahu's conservative Likud Party, has referred to the theater as the country's "terror stage."
The theater's artistic director Yigal Ezrati initially welcomed the nickname, hoping the publicity would bring in more theatergoers.
But lately he has been frightened: If a proposed "cultural loyalty" law passes the Israeli parliament, the Knesset, he will lose all his public funding – and likely the Jaffa Theater itself.
That threat has subsided slightly after a November 26 reading on the bill in the Knesset was postponed indefinitely after its architect, Miri Regev, failed to corral a majority of votes — prime minister Benjamin Netanyahu's rightwing Likud bloc has a narrow one vote majority in the 120-seat parliament.
While Israel's Haaretz newspaper claimed that Regev had "ruined her last chance to resuscitate the bill" that had cleared its first Knesset vote but requires two more readings to become law, many artists will remain concerned after the culture minister promised that "it will pass because it must pass."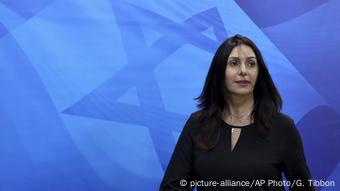 Israeli Minister of Culture Miri Regev wants to ban funding for projects that attack the Israeli state
Targeting 'incitement to terror'
Paving the way for major changes in Israel's cultural landscape, the so-called cultural loyalty legislation is designed to slash government funding to cultural institutions that "contravene the principles of the state" — referring concretely to "incitement to racism, violence and terror." Regev has threatened that the Jaffa Theater would be among the first to lose government subsidies.
The Jaffa Theater, located about 5 kilometers south of central Tel Aviv in the ancient Arab town of Jaffa, presents itself as a stage that advocates a message of peace: It features plays in both Arabic and Hebrew. Its three artistic directors consist of two Israelis and an Arab.
"We are an example of peaceful coexistence," Yigal Ezrati explains. "We want to provide a voice to all sides and believe that the audience is intelligent enough to make up its own mind."
Read more: Airbnb cuts listings in Israeli West Bank settlements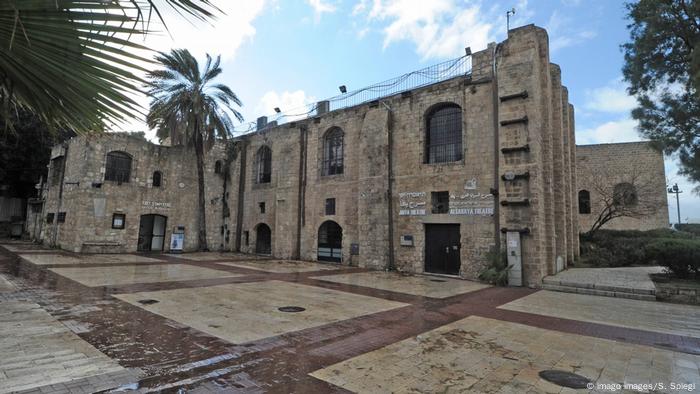 Regev has referred to the Jaffa Theater (pictured here) as a "terror stage" in the past
Subversive theater
But the theater has, in the past, staged plays featuring verses by Palestinian poet Mahmoud Darwish, who in some of his works denies the existence of Israel as the Jewish state; or produced a drama about a young Palestinian, who was arrested for inciting Palestinians to "rebel" against authorities as part of a social media campaign; or shown a movie about a woman in Gaza, who during the First Intifada (1987 – 1993) called on Palestinians to engage in peaceful protest.
For culture minister Miri Regev, these works all qualify as incitement to terror – as defined in the draft bill.
"That's insane," Ezrati responds. "Theater has to provoke and raise social questions. No one dashes out of a theater to throw bombs at civilians. That idea is simply ridiculous."
Miri Regev's dificult relationship with artists
For years, Regev has expressed her staunch opposition to a number of Israeli artists.
In 2015, she terminated an agreement with choreographer and dancer Arkadi Zaides after he had used video footage provided by the nongovernmental B'Tselem foundation, which had been taken in the Israeli-occupied West Bank.
In 2016, she stormed out of the Ophir-Awards, Israel's version of the Academy Awards, because they, too, had made references to Palestinian poet Mahmoud Darwish.
In 2017, after the premiere of the movie "Foxtrot" by Israeli director Samuel Maoz in Venice, Regev declared that the film smeared the reputation of the Israeli Defense Forces, adding that Maoz was a disgrace to Israel. However, Regev had not even seen the film at the time when she made the comments, but had merely heard that the picture showed Israeli soldiers murdering young Palestinians.
Regev is also responsible for evicting the non-profit Barbur art gallery from a building in central Jerusalem earlier this year after it allowed the left-leaning "Breaking the Silence" NGO to hold an event in the premises; "Breaking the Silence" is an association of former Israeli military personnel, who hold critical views on Israel's occupation policy.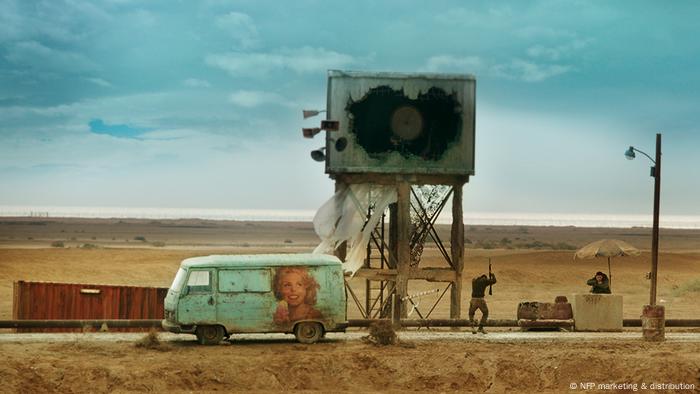 Regev criticized Samuel Maoz' film "Foxtrott" - without having watched it
Dangers to democracy
At the time of the "Foxtrot" controversy Miri Regev announced that she would stop government funding for such films. Now, it would appear, she wants to make sure that her pledge is enshrined into law. And that draft law encompasses far more than just "incitement to terror."
Regev's ultimate goal is to have carte blanche to cancel government funding for all organizations that support projects that deny Israel's right of existence as Jewish nation state, regard Israel's Day of Independence as a day of mourning, or destroy the Israeli flag.
Actress Esty Zakheim believes that the draft law has to be viewed critically: "I'm in no way against loyalty to the government or protecting our flag. It has nothing to do with art if someone — pardon my French — decides to take a shit on the Israeli flag. But everyone has the right to express their opinion — even if I don't like it."
Read more: Israel's future: ongoing 'questions marks'
Petition against propaganda
Zakheim is the chairperson of the Israeli actors' guild Shaham. Her organization launched a petition against the law— alongside other cultural institutions. A total of 2,800 artists signed the document, including internationally recognized creatives like author David Grossman, sculptor Dani Karavan and arts scholar Micha Ullman.
They all demand that the Knesset refrains from signing the bill into law for one key reason: the draft bill specifies that the ministry of finance would no longer be in charge of government subsidies for cultural institutions; instead, that power would be deferred to the Ministry of Culture. In other words, Miri Regev could get to have an ultimate say in each decision.
"When one person gets to decide, which artist is to receive funding and who gets rejected, we lose our democracy," Esty Zakheim says. "It doesn't matter if that person is politically left or right, religious or not — if they get to impose their views on everyone else, we can no longer claim to have a democracy."
After the bill was indefinitely postponed on November 26, it shows it still has a considerable way to go before it could be signed into law. Indeed, Zakheim seems to have succeeded after calling lawmakers daily in a bid to prevent them from voting in favor of the law during the next two readings in the Knesset.
The failure to secure a majority on the first reading shows how the controversial bill is dividing politicians. Opposition leader Tzipi Livni, for example, expressed her doubts about the draft bill even before the first reading in parliament: "There won't be any culture left if it is under the control of the government. Instead of culture, we'll get propaganda."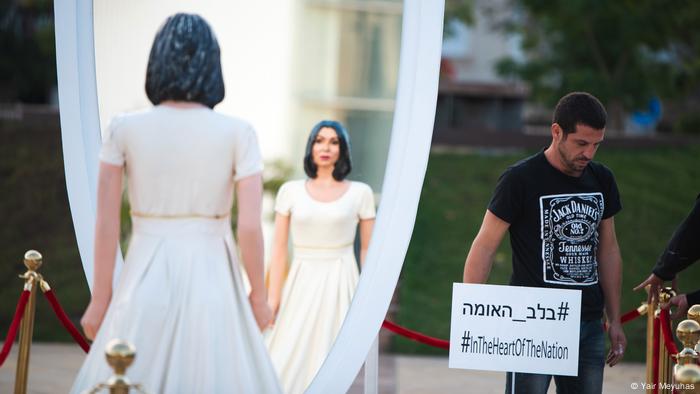 Itay Zalait's (right) sculpture of Miri Regev has attracted mixed responses - as good art should, he says
Snow White or Evil Queen?
Yet the public is divided as to whether Regev's plans would simply amount to a culture of government propaganda, as a recent art installation in Tel Aviv shows.
Earlier in November, a statue of Miri Regev surfaced overnight on the square in front of Israel's national theater, HaBima. With pitch-black hair and a snow-white gown, the Regev statue gazes at a giant mirror. Is she supposed to be Snow White — or the evil queen? The statue is designed by artist Itay Zalait.
Next to the Regev effigy, Zalait had also erected a sign, saying "In the heart of the nation" — in reference to Regev's remarks in the past, referring to migrants in Israel as a "tumor in the heart of the nation." He explains that he had placed the sign there to make people wonder whether artists had now replaced migrants as the new enemies of the state.
"Some passersby criticized me as a traitor right away," he explains. "Some saw it as a critique on Regev, others thought my depiction of her was beautiful." With so many diverging views, Zalait thinks he succeeded with his public performance: "Everyone sees something different in a piece of art. There is no correct interpretation."
Read more: Boycott activists fined for canceled Lorde concert in Israel
Tel Aviv: Israel's beacon of creativity
Regev, however, continues to defend her bill as the only way forward, saying the Palestinian artists in particular were abusing freedom of speech to attack Israel: "You want us to finance people who speak of (Palestinian) martyrs, who appeal to those who want to see us devoured, who support insurgencies?" she said, adding that her law was not designed to hush people — but only to cut off government funding in such instances.
Yigal Ezrati believes that Regev's statements serve the sole purpose of justifying hypocritical views. "Without government subsidies, theaters won't survive," he explains, highlighting that more than half the budget of the Jaffa Theater comes from state coffers. Ezrati explains further that the Jaffa Theater is prepared to take the issue to the Supreme Court, if need be.
He can also hope to receive support from the mayor of Tel Aviv, Ron Huldai. Before his reelection, Huldai had announced that he would assist artists affected by Regev's cuts. He stressed that Tel Aviv had always been a beacon of creativity and diversity.
Ezrati wonders, however: "For how much longer?"