In a speech to US Jewish leaders in Jerusalem, Israeli Prime Minister Benjamin Netanyahu said on Wednesday his country's elite military intelligence unit had prevented the bombing of an "Australian airliner."
"The Israeli intelligence services thwarted the downing of an Australian plane, an unimaginable slaughter," the Israeli leader told delegates.
"This would have caused major disruption in global air transport, and this is only one of dozens of terrorist attacks we have foiled around the world," Netanyahu said, without giving any other details.
His comments followed a statement from the Israeli army that a branch of military intelligence known as Unit 8200 had foiled an "air attack abroad" by the "Islamic State" (IS) militant group.
Read more: Munich Security Conference: How to stop a post-caliphate jihad?
Israeli media said the army statement referred to an attempted bombing in July of an Etihad Airways flight, which had been due to leave Sydney for Abu Dhabi.
Information provided by Unit 8200 — which gathers and analyzes intelligence using sophisticated information technology — led to the arrest of two IS militants who were working "toward the execution of the attack," the army said.
Tip-off led to arrests
Australian Federal Police have said that they received the foreign intelligence tip-off only on July 26, 11 days after the attempt to board the plane.
The information led to raids on several Sydney properties during which two Lebanese-Australian brothers, Khaled Khayat and Mahmoud Khayat, were charged with plotting to bring down the passenger jet by trying to smuggle an improvised explosive device in their luggage onto the July 15 flight.
The attempt was aborted before they reached security, apparently because the device was too heavy to pass check-in.
Reports at the time of their arrest suggested that one of the men had asked his brother to carry the luggage on board without telling him that the bag contained explosives.
Two other men were arrested during the raids but one was later released without charge. Another was charged with an unrelated offense.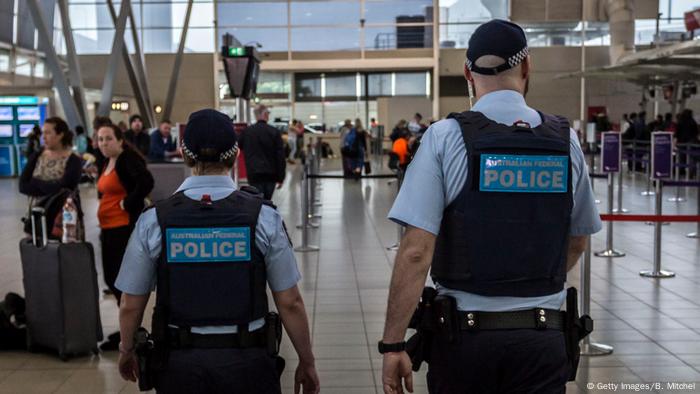 Four men were arrested over the terror plot that involved blowing up an Etihad Airlines passenger jet
'Close relationship'
Although Netanyahu's statement seemed not to tally entirely with the timeline of events, Australia's Home Affairs Minister Peter Dutton praised the cooperation between Australian and Israeli agencies.
"This Etihad flight was almost blown out of the sky and it would have resulted in hundreds of people losing their lives," he told a local radio station in Sydney. "We are grateful for the assistance that Israel provided in that matter and we still have a very close relationship with them and many other partners."
The homemade bomb, disguised as a meat-mincer, was built at the direction of a senior IS commander based overseas, Australian police said.
Read more: German intelligence part of secret anti-terror unit targeting returning IS fighters - report
Days after the plot was revealed, Lebanon's interior minister said Beirut had monitored the brothers for more than a year and had worked with Australian authorities to disrupt the attack.
Etihad earlier this week confirmed it was working with Australian authorities on their investigation.
tj,mm/ng (AFP, Reuters)
DW's editors send out a selection of the day's hard news and quality feature journalism. You can sign up to receive it directly here.