Israel said Sunday it destroyed a tunnel it claimed had been built by Hamas in Gaza that extended into the Mediterranean Sea. The military claimed Gaza militants were able to sidestep Israeli efforts to impose a comprehensive blockade of the Palestinian territory.
Military spokesman Lt. Col. Jonathan Conricus said Israeli aircraft bombed a Hamas military site last week, rendering the tunnel inoperable.
"It could have facilitated hostile activity against the state of Israel," Conricus said, adding that the tunnel's underwater exit was about two miles (three kilometers) from Israel's border. It extended dozens of yards (meters) into the sea.
"We continue to monitor using all our operational, technical and intelligence capabilities that we have at our disposal."
Hamas militants infiltrated into Israel during the 2014 war, prompting Israel to place a high priority on eliminating such tunnels. Hamas gunmen caught Israeli forces off guard four years ago, and in one instance killed five Israeli soldiers.
Over the past eight months, Israel said it has destroyed 10 tunnels built from Gaza into Israel.
Read more: Israel launches retaliatory strikes
As usual, Hamas did not immediately comment on the Israeli announcement.
Deadly clashes along border
A high-level Israeli military official, who would only speak on condition of anonymity, suggested Hamas had dozens of divers. Israel assumes there are other undersea tunnels.
The official said the diving equipment could be used leaving no trace above water.
A local TV report said the entrance point for the tunnel was inside a house in Gaza, enabling Hamas to avoid suspicion by entering the building in regular clothes. But once inside, they would have been able to put on diving suits and assemble weapons.
Read more: Israel erects sea barrier to block infiltrators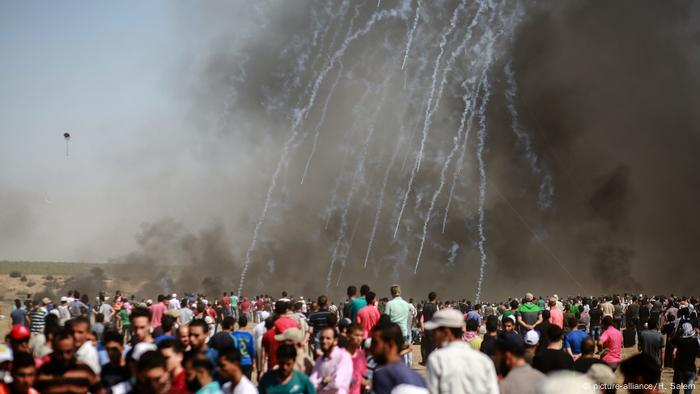 Protest marking al-Quds Day at the border with Israel
Over the past six weeks, Palestinians have held a series of demonstrations along Gaza's land border with Israel.
Since March 30 at least 129 Palestinians have been killed as Israel opened fire on the protesters. There has not been a single Israeli fatality.
The protests peaked on May 14, when more than 60 Palestinians were killed in anti-Israeli demonstrations that coincided with the controversial opening of the US Embassy in Jerusalem.
bik/jm (AP, AFP, dpa)
Each evening at 1830 UTC, DW's editors send out a selection of the day's hard news and quality feature journalism. You can sign up to receive it directly here.