Israel's Strategic Affairs Ministry said in a report that the EU was violating its own policies on matters related to "terrorism."
The ministry published a report on Friday presenting a list of organizations it says receive EU money and call for boycotts of Israeli products. Some groups, the report alleges, has links with terrorist outfits.
"The state of Israel expects the EU to act with full transparency and reveal the scope of its financial aid to organizations that have ties to terror and promote boycotts against Israel," the report said. "This study also raised the concern that European taxpayers' money is being used to support ties with terrorist organizations."
The Israeli ministry urged the EU "to fully implement in practice its declared policy of rejecting boycotts against Israel" and to halt funding to groups that promote anti-Israel boycotts.
Read more:
Netanyahu snubs Germany's Sigmar Gabriel over NGOs
German national newspaper apologizes for Netanyahu cartoon criticized as anti-Semitic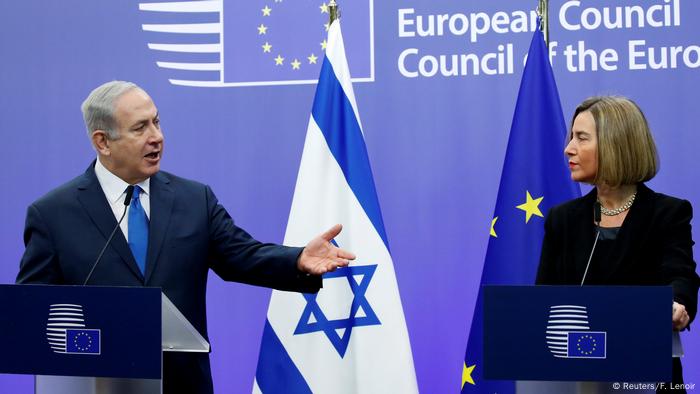 Israeli PM Netanyahu and EU foreign policy chief Mogherini at the European Council in Brussels
The EU said it hadn't received any "communication from the government of Israel" and that the 28-member bloc was confident that its "financing does not go to support terrorism" or boycott efforts.
"We are, of course, happy to review any relevant information received concerning EU funded activities," the EU said in a statement. "Money from the EU budget may only be spent for the purpose for which it was contracted, under strict transparency rules and is subject to extensive monitoring requirements."
'Another Israeli aggression'
Israel said the listed NGOs received more than €5 million ($6 million) from the EU in 2016.
The NGOs Israel accused of having links to Palestinian militant groups include Norwegian People's Aid, which the EU paid more than €1.7 million in 2016. The group was fined by the US in April for alleged links to Islamist groups Hamas and the Popular Front for the Liberation of Palestine (PFLP). Both Washington and Brussels have classified these groups as terrorist organizations.
Read more:
Palestinian leader Mahmoud Abbas' Holocaust comments spark outrage
Netanyahu slideshow reinforces need for Iran nuclear deal, says EU
Other groups listed in the Israeli ministry report include Irish organization Trocaire, British outfit War on Want, Dutch anti-war group PAX, and a number of Palestinian organizations.
Munjid Abu Jaish of PNGO Net, an umbrella organization that works to coordinate Palestinian civil society, called Friday's report "another Israeli aggression against the Palestinian people and their institutions."
"We will continue our legal nonviolent struggle according to the international law, regardless of the results, because we believe in this path," he said.
Earlier this year, Israel authorities banned members of 20 activist groups from entering the country over their calls to boycott the Jewish state.
shs/sms (AP, dpa)