The "Islamic State" (IS) published a video on Tuesday claiming to portray the beheading of a second hostage, according to the private terrorism monitoring group SITE. The man was reportedly US journalist Steven Sotloff.
The White House said it could not yet confirm the authenticity of the footage.
"If there is a video that has been released, it is something that will be analyzed very carefully...to determine its authenticity," White House press secretary Josh Earnest told reporters.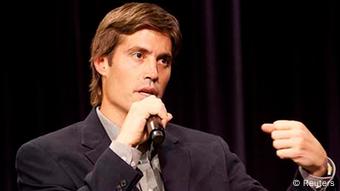 Kidnapped in 2012, James Foley was killed by an 'IS' fighter last month
US State Department spokesperson Jen Psaki said: "we are sickened," by the video.
Last month, IS members murdered US journalist James Foley. In the video, Sotloff appeared after Foley's beheading with his full name "Steven Joel Sotloff" written on screen. A masked man in the video then warned: "The life of this American citizen, Obama, depends on your next decision."
The executions of the two US journalists were in direct response to US military air strikes against IS members in northern Iraq, who have been battling Kurdish fighters for control of the territory.
US President Barack Obama authorized the bombings of IS sites in early August in a bid to prevent the humanitarian crisis in northern Iraq from worsening. In the meantime, some EU member states, including Germany, have approved military aid for Iraq to battle the Islamic State.
UN to probe IS killings
Prior to the release of the purported Sotloff video on Tuesday, the United Nations Human Rights Commission (UNHCR) announced it would send a team to investigate the IS activities against civilians in response to a human rights report.
According to human rights watchdog Amnesty International, the jihadist group had committed "war crimes, including mass summary killings and abductions."
The UNHCR condemned the alleged abuses, which reportedly have included beheadings, crucifixions and public stoning.
Rise of IS
The swift emergence of Islamic State militants in Syria and Iraq has alarmed not only leaders in the Middle East, but also in other countries, where they have been known to recruit members.
British Prime Minister David Cameron announced new measures on Monday aimed at tackling the increase of radicalization among Britons. One step would be to require airlines to hand over passenger lists before being allowed to land in the UK.
At least 500 UK citizens - including James Foley's murderer - are believed to have travelled to Syria and Iraq to support the IS insurgency.
kms/hc (AP, Reuters)