In a seven-minute video, one of the three fighters seen in the video directly addressed Erdogan in accent-free Turkish. The "IS" fighter in the video accused the Turkish president of "selling the country to crusaders" and of allowing the US access to Turkish bases "just to keep his post."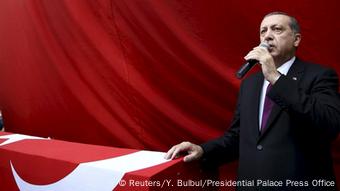 Turkish President Recep Tayyip Erdogan has recently changed his policy regarding IS, engaging in a mission to fight against the jihadist group
"Turkish people: without losing any time you have to rebel against these atheists, crusaders and infidels who have made you slaves," he said, as two other bearded men holding weapons sat silently beside him.
The video also incited a deployment of fighters to Istanbul to conquer the city - without mentioning any concrete attacks:
"Altogether and under the orders of Abu Bakr al Baghdadi (...) let's conquer Istanbul, which the traitor Erdogan works day and night to hand over to crusaders," the man added, while referring to Islamic State's leader.
The video, which was widely cited on social media and reported on by mainstream Turkish media outlets, was entitled "A Message to Turkey" and was said to have been produced by the "Raqqa state media office," a reference to the group's stronghold in northern Syria.
A new Caliphate
According to Turkish media, it was the first IS video in which the jihadist group directly called for missions in Turkey, urging Turks to help IS in establishing a caliphate. The authenticity of the video could not immediately be verified, but the SITE Intelligence Group, which tracks extremist activity, also described it as a call to arms.
IS has seized large parts of Syria and Iraq, both of which border Turkey, declaring a caliphate within the territory it rules. It has attracted thousands of foreign fighters from around the world.
Turkey has been in a heightened state of alert since launching airstrikes against Islamic State fighters in Syria and opening its air bases to US-led coalition forces. The moves marked a major policy shift after years of reluctance in the capital, Ankara, to take a front-line role against the Islamist fighters pressing on its borders.
The steps followed a suicide bombing, blamed on Islamic State, in the Turkish border town of Suruc on July 20, which killed 34 people.
ss/kms (Reuters, AFP)