Crisis is a word that's over-used in journalism. Still, it's fair to say, cricket - one of the world's most popular sports - is now in a crisis: a credibility crisis.
In the last two months, more and more of the sport's biggest players have been banned from competing, or warned, all because they are deemed to be bowling illegally.
Saeed Ajmal, a 36-year-old off-spin bowler with over 400 international wickets to his name, is now sitting on the sidelines, banned indefinitely. Last weekend, Caribbean player Sunil Narine was stopped from playing one of the most lucrative games in World Cricket, the Champions League final in India. He's since been dropped from the West Indies national team.
To put it all into perspective, the recent decisions against Ajmal and Narine are about the equivalent of banning Cristiano Ronaldo and Lionel Messi from taking free kicks, because they are doing it the wrong way. If it happened in football, there would definitely be rioting in the streets.
Not surprisingly, cricket's governing bodies around the world are getting angry; fans are confused and commentators are starting to doubt literally every bowler they see. It's not pretty to watch, especially just ahead of the sport's showcase event - the World Cup, which takes place in Australia and New Zealand in February.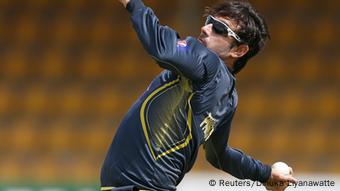 Ajmal is being forced to change his bowling action
Chucking or bowling?
According to law 24 of the famous MCC rulebook which governs the sport, a ball is fairly delivered if "once the bowler's arm has reached the level of the shoulder in the delivery swing, the elbow joint is not straightened partially or completely."
Once biomechanics caught up with this demanding rule, early testing at the start of the millenium showed that just about all bowlers actually had a flex in their arm of around 10 percent as they released the ball. It's no surprise really, in a sport where the ball has to be moved quickly or with spin on it, towards the batsman.
Subsequently, the fine print in the MCC laws was changed in 2006 to allow bowlers to have a 15 percent bend. Those players that are now believed to exceed that threshold, can go and checked at a biomechanics lab in Australia.
Sri Lankan former cricketer Muttiah Muralitharan, for example, was one of the first high-profile bowlers to be tested under the new rule, and he eventually showed he was able to bowl his controversial doosra delivery with an arm bend of less than 15 percent, he said.
"The law was set a long time ago," Muralitharan told journalists in Dubai as he argued for more bowlers to follow the guidelines.
"It says 15 degrees is allowed," he added. "It is not up to other people to judge, because the law is there. I also faced the same problem and I went for testing and my action came lower than that."
A long history
Ever since Ernie Jones was called for throwing the ball way back in a 1898 match between England and Australia, the issue of chucking has raised it's head again and again in cricket. So the question is, why so many, surprising, bans and warnings now?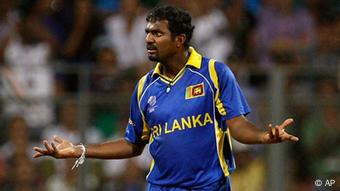 Often doubted, never defeated: Muttiah Muralitharan is one of cricket's most successful bowlers
The reason is clear. The ICC, the sport's governing body, has wanted to crack down on the issue since July, keen to ban bowlers who are getting an unfair advantage by bending their arm during the delivery when they should be keeping it straight.
The aim is definitely admirable. But the timing is bad, with just four months to go until the World Cup there is considerable doubt that a player like Ajmal would have the time to rectify his bowling action, go for new testing, and then compete in the World Cup. Pakistan, who have another bowler under investigation, Mohammad Hafeez, are not looking in good shape ahead of that tournament.
The way that the testing is done, at a high cost in a country far distant from where many cricketers play the game, is hardly appropriate for such a serious issue. More testing labs should be set up quickly to deal with the problem.
Even at club level, bowlers are regularly under scrutiny from umpires and opponents for dodgy bowling actions. But, sending them all to Australia is hardly an option. In those instances, the doubts about a bowler's legality often continue for years or even decades. Cricket's credibility is the poorer for it.