Experts at an assembly held by the International Renewable Energy Agency (IRENA) worked through a new global roadmap to consolidate efforts to double clean energy by 2030. At IRENA's two-day annual event in Abu Dhabi, German Environment Minister Peter Altmaier addressed representatives from 136 nations and urged boosting development of solar and wind energy sources.
Fossil fuels such as coal, Altmaier told delegates, only appear to be affordable because the cost of the damage they do to the climate and the environment is not factored into the calculations. "We must bear in mind the external costs of these fuels," he said.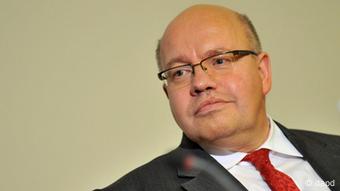 Costs are falling, Altmaier stressed
The environment minister pointed out that renewables have come to be much more affordable, and urged closer cooperation among states that plan an especially speedy development of sources of renewable energy. To that end, Altmaier met with government representatives from China, Denmark and Morocco. The German minister had previously announced plans to found an association of nations focused on investing in alternative energies, but that appears not to have gotten off the ground yet.
Chinaalso pursuing renewables
Chinaowes 80 percent of its electricity to coal, making it the world's largest polluter - but China has also emerged over the past two years as the greatest investor in renewable energies. The country has ambitious goals and is already leading in hydropower with an installed capacity of 249 gigawatts (GW) and a wind energy capacity of 80 GW. Clearly, China has already left behind former wind energy pioneers like the US with currently 50 GW and Germany with 31 GW.
By 2020, experts say China could operate wind turbines with a capacity of about 200 GW.
Chinaalso leads in the field of solar water heating for private households. 130 million households in China already use solar energy, compared to 200 million households worldwide.
Representing over 90 percent of people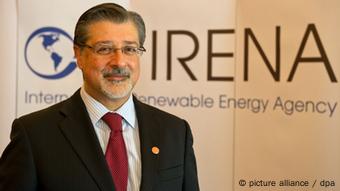 Amin wants to double the share of renewable energy worldwide
IRENA welcomed China's plans to join the international organization.
It is an important "milestone in international efforts to promote renewable energy," IRENA Director General Adnan Amin said in Abu Dhabi.
"I am delighted with the confidence China has shown in IRENA, and I look forward to their active participation in the global effort for a clean energy future for all," Amin said. When China joins the agency, IRENA will represent more than 90 percent of the world population.
International energy experts in Abu Dhabi said they are convinced that renewables will increasingly take over the energy supply in his century due to a decrease in cost, benefits to local job markets and the international community's goal of dramatically cutting greenhouse gases in order to limit the global temperature rise to two degrees.