A date has been set for the Irishreferendum on abortion law, Ireland's Health Minister Simon Harris confirmed on Wednesday. On May 25, voters will be given the chance to legalize abortion for the first time in 35 years.
The decision follows the Irish Senate voting in favor of holding the poll by a wide margin on Tuesday night.
Read more: Irish politicians leave abortion to the people
Irish Prime Minister Leo Varadkar, who announced the referendum in late January, tweeted his support for revising the country's stance on the medical practice.
Abortion law back on the political agenda
The poll will ask voters if they wish to repeal an amendment to the constitution that was added after the 1983 referendum, which enshrined the equal right to life of the mother and the unborn child.
If a yes vote is achieved, the current constitutional restrictions on abortion will be removed and parliament will be able to pass a new law.
Ireland has some of the strictest abortion laws in the world. Abortion is accessible, but only in very specific cases where the mother's life is at risk. The law was only changed five years ago following public outrage over the death of Savita Halappanavar in 2012, who died from septicaemia after being refused an abortion.
Read more: Irish woman live-tweets abortion trip to UK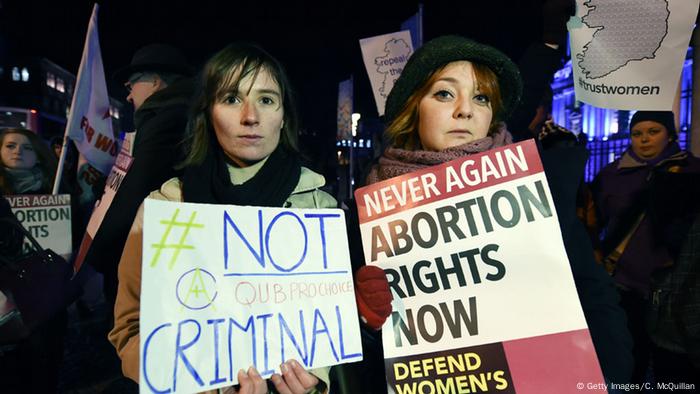 Varadkar has said he would support a repeal that allowed the procedure effectively on demand in the first 12 weeks of gestation.
This would bring Ireland in line with surrounding European countries, including Germany which has a 12-week limit on pregnancy termination. Spain has a 14 week limit, Sweden 18 weeks, while the United States allows abortions beyond 20 weeks.
A clear generational divide
Polls have indicated that more than half of Irelanders support a lift of the abortion ban, highlighting a sharp generational divide. Younger voters are far more likely to back change and a clear majority of voters over 65 are opposed.
Although Ireland's prime minister will campaign for change, not everyone in his Fine Gael party are supportive. Similarly, those in the main opposition party, Fianna Fail, are divided despite their leader Michael Martin's public support for a repeal.
Read more: Ireland abortion law: Mass march in Dublin
cs/ks (AP, Reuters, AFP)