Iraqi elite forces unfurled the country's flag above the recaptured Ninevah province government complex in Mosul on Tuesday. The buildings, which include police headquarters, the courts complex, and water and sewage services, are the last major stronghold of "Islamic State" (IS) in the northern city, military officials said.
The victory comes after weather forced the forces to postpone their offensive on the city's western bank. They resumed action on Sunday.
Other key targets captured
In addition to the government complex, the Rapid Response division and federal police also took hold of Mosul's main museum, which had been ransacked and damaged by militants.
Meanwhile, US-backed forces retook the Al-Hurriya bridge spanning the Tigris river. It is the second bridge to be brought back into coalition hands, and one of five that serve as crucial strategic links between the city's government-controlled eastern half and the embattled western half.
US-led airstrikes in 2016 either destroyed or damaged the city's bridges, meaning they must be repaired to be serviceable.
A Rapid Response spokesperson told Reuters that the forces had "killed tens from Daesh [IS]" during the heavy fighting, though the number of fatalities has yet to be confirmed.
Despite the ruined state of the captured buildings, the successful repossession is a symbolic mark of progress in the battle to restore Iraqi state control over the country's second largest city.
Mosul - an important IS stronghold
In 2014, Islamic State leader Ab Bakr al-Baghdadi proclaimed a "caliphate" encompassing parts of Iraq and Syria from Mosul's grand al-Nuri Mosque. IS controlled the city until October 2016, when Iraqi and coalition forces launched an operation to recapture the urban center spanning the Tigris River.
Mosul straddles the Tigris
After retaking the city's eastern half in February 2017, coalition forces turned their attention to seizing the western section, a much more difficult endeavor given the old city's narrow streets and dense population, which allows IS militants to hide among the remaining civilians.
The seizure of the government complex will aid Iraqi forces as they attempt to root out militants from the heart of the old city.
The battle for Mosul, involving heavy exchanges of fire and suicide car bombs, has displaced more than 45,000 residents from the city's western section alone.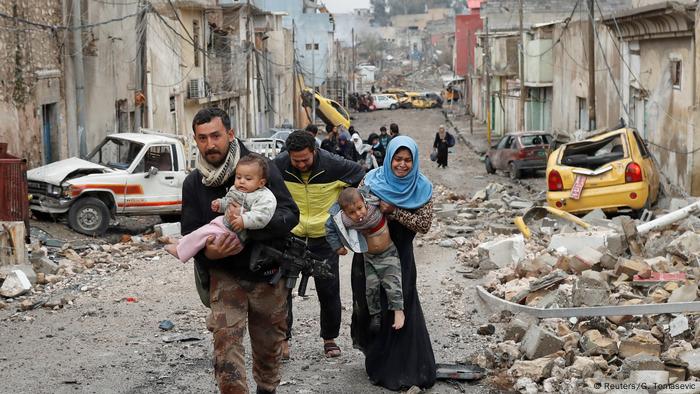 Thousands of Mosul civilians have been displaced by fighting
IS defeats in Syria
The announcement of the successful advance in Mosul coincided with the news that the Syrian Democratic Forces (SDF), a US-backed Kurdish-Arab alliance and key IS opponent, had captured a strategic supply route in Raqqa province. The two entities have been battling for the region since November 2016.
As in Mosul, the anti-IS forces fear militants are hiding among the Syrian civilian population.
cmb/tj (AFP, Reuters, dpa)