Prominent Iranian-Canadian environmentalist Kavous Seyed-Emami died in custody in Tehran a fortnight after his arrest, activists and a family member said on Sunday.
Announcing the death on social media, Seyed-Emami's son, Ramin, cast doubt on the official claim that the cause was suicide.
"They say he committed suicide. I still can't believe this," Ramin, a well-known singer, said.
The Iran Sociology Association, of which Seyed-Emami was a member, also questioned the official cause of death.
"The information published about him is not believable, and we expect officials to respond and to provide the public with information concerning his death," the association said in a statement.
Read more: Iran's double standard of justice
Other 'suicides'
The death of Seyed-Emami, a 63-year-old university professor and managing director of the Persian Heritage Wildlife Foundation, comes after reports of at least two other suicides by people arrested in a crackdown following week-long protests in late December and early January.
Seyed-Emami was detained along with seven colleagues from the wildlife NGO on January 24. Nearly 5,000 people are thought to have been arrested overall. At least 25 people were killed in clashes.
Seyed-Emami's death was not immediately reported in Iranian media amid nationwide rallies marking the 39th anniversary of the country's Islamic Revolution.
Iranian lawmaker Ali Shakourirad, head of the reformist Islamic Union Party, called on justice officials in a tweet to be more transparent, saying that the death had "caused a wave of questions and concerns among the public."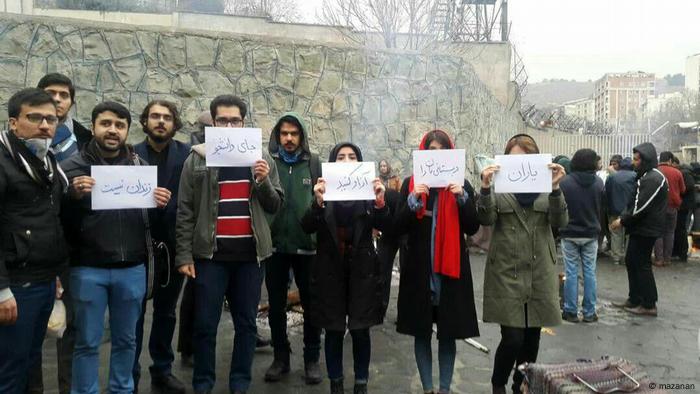 Relatives of those arrested have demanded answers about their detention
Espionage charges?
Tehran's chief prosecutor, Abbas Jafari Dolatabadi, had said on Saturday that a number of people active in the environmentalist field had been arrested, although he gave no names.
"These people collected classified information in strategic sectors of the country in the name of scientific and environmental projects," he was quoted as saying by the Mizan Online news agency, which is linked to the judiciary.
Seyed-Emami is the second Iranian-Canadian to die in prison in Iran following the murder of 54-year-old photojournalist Zahra Kazemi in 2003. She had been arrested for taking photos outside Tehran's notorious Evin Prison.
That case weighed on Iranian-Canadian relations for years.
Iran does not recognize dual nationality and treats those arrested as Iranian citizens.
tj/sms (AFP, AP)