Diplomatic talks over the suspension of Iran's uranium enrichment programme in exchange for an international incentives package were suddenly cancelled on Wednesday for technical reasons, according to a spokesman in Tehran's foreign ministry.
Iran's chief nuclear negotiator Ali Larijani however did accept an invitation from Javier Solana, the EU's foreign policy chief, to meet at a private dinner Thursday night in Brussels, which will be followed by more substantive talks on Tuesday, according to Iran's Fars News Agency.
Still, a spokeswoman at the EU Commission expressed dismay at Iran's slowness in responding to a "very good package of incentives," including the offer to transfer European civilian nuclear technology and provide reactors to the Islamic republic.
One EU diplomat told reporters: "What we are looking for is the first feedback -- the start of the process of getting a reply. The more the Iranians wait, the more the countries who made the offer will feel impatient."
More formal talks after the G8 meeting
Iran has repeatedly emphasized that there is no deadline to respond to the proposals, but indicated a willingness to begin formal talks starting July 23, when the Persian month of Mordad commences, but after the mid-July G8 summit in Russia, when the key Western powers will meet and have the chance to discuss a course of action in case Iran rejects the proposals.
US undersecretary of state Nicholas Burns told the television network C-Span that if Iran has not responded by July 12, when the five permanent members of the United Nation's Security Council plus Germany meet in Paris, "the pressure on Iranians will be enormous from all the international community."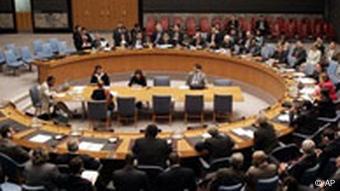 The five permanent members of the UN's Security Council will put international pressure on Iran
Possible UN sanctions if talks fail
However since Russia and China, both veto powers, are unlikely to back UN sanctions at this stage, Tehran faces little pressure to make any commitment in Brussels, nor before the G8 summit of industrial nations. Possible UN mandated sanctions could include freezing assets and a blockade on shipping refined oil products to Iran.
In Brussels, there is speculation that Larijani postponed yesterday's visit, because Maryam Rajavi, the opposition leader of the National Council of Resistance of Iran happened to visit the European Parliament in Strasbourg.