Christian Gramsch, as DW Akademie's Director how do you see current media freedoms around the world?
Unfortunately, the trend in recent years is clear - the challenges are greater than ever. Very few countries have made significant strides in terms of media freedom, and instead we often see increasingly repressive media laws. Violence against journalists is also on the rise. Non-state actors, such as the Islamic State or drug cartels in Latin America, are playing a disastrous role in all of this. And while in many countries the ongoing digital transformation is providing professional media workers as well as community journalists and bloggers more room to maneuver, we're also observing disturbing levels of digital surveillance, censorship and targeted online propaganda.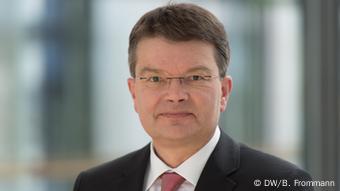 "Unfortunately, the trend in recent years is clear - the challenges are greater than ever", says Christian Gramsch
What does the online Media Freedom Navigator offer?
The Navigator features an interactive global map that shows media freedom rankings around the world according to well-known indices. It provides a comprehensive assessment of media freedom at a glance. Instead of simply presenting data from organizations such as Reporters Without Borders or Freedom House, we also provide information on how these rankings are compiled. You can find detailed background information and lists of links, as well as a quiz on media freedom and the indices. This way users can have fun while they're learning.

Why this project?
With our projects around the world, DW Akademie contributes to the improvement of freedom of expression and media freedom. The facts and data from organizations that analyze developments in this area provide an important basis for our work.
One of the website's aims is to increase awareness of how these indices are generated. This can help users interpret what the rankings and indices are really saying, since each analysis has its own strengths and weaknesses. Last year we published a manual on the subject; our new online Navigator helps people find the information and analyses quickly and easily.

Who is the target audience?
The Navigator is aimed at experts on media freedom and human rights, particularly in our partner countries. These include people working for NGOs, activists, researchers and journalists. The tool is also useful for people working in the area of foreign or development policy, for example those assessing the political situation in a given country. Media freedom is certainly an important part of that.