A 27-year-old German, publicly identified only as Sami J., is among six Europeans on a list 173 potential suicide bombers for the Islamic State apparently found by Iraqi troops who fought IS in Mosul earlier this year.
On Thursday, Germany's Die Welt newspaper, which had access to the document, reported that Sami - apparently from Solingen, North Rhine-Westphalia - was No. 70 on the list. The newspaper also published his photo and IS name, Abu Assid al-Almani. The list had been passed on to Interpol by US services.
The paper also reported that Sami had been a leading member of Millatu Ibrahim, a hard-line extremist organization based in Solingen that was founded in 2011 and banned by the German Interior Ministry in 2012, when it was said to have had about 50 members.
Sami is reported to have left Germany along with his wife and child in fall 2012, when he traveled to Egypt, Libya, Turkey and, finally, Syria. According to the documents discovered in Mosul, Sami joined IS on May 25, 2015, lived in the "Battalion guesthouse," and was designated for the function of "suicide bomber."
Other named Europeans
The Belgian newspapers La Derniere Heure and Het Laatste Nieuws reported that a Belgian also appeared on the list. The 24-year-old, who apparently lived in Mosul, used the pseudonym Abdelhamid Abaaoud - which could be a tribute to the ringleader of the group that carried out a series of attacks in Paris during the night of November 13, 2015.
The list also included 132 Iraqis, as well as people from North Africa, the Persian Gulf, and the nations of Tajikistan and Bangladesh.
Interpol sent the list to various national security forces and intelligence agencies in May, along with suspects' photos and dates of recruitment, as well as the names of their parents and the mosques that they are thought to have attended.
In July, Roman Friedrich, a sociologist who works with deradicalization initiatives in Germany, told DW that there are about 500 potentially violent Salafists - a term German security forces use for adherents of an ultraconservative branch of Islam - in North Rhine-Westphalia. "[Recruiters] go right for young people's hearts with emotional messages, in the form of short videos or music videos, or hashtags and texts," he said. "They're very active in the comment sections because they can use facts or manipulate facts to stir emotions among their target groups."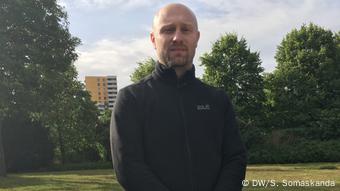 Roman Friedrich says extremist recruiters connect emotionally with young people
Foreign fighters at home
Via email, an Interpol spokesperson told DW that the organization "regularly sends alerts and updates to its 190 member countries on wanted terrorists and criminals via I-24/7, our secure global police communications network."
"Once a National Central Bureau (NCB) - which is the single point of contact for the General Secretariat, and other NCBs - receives this information, they decide which other authorities it should be shared with at the national level," he added. "This may include border agencies, specialist counterterrorism units and customs, for example."
With IS rapidly facing military defeat in Iraq and Syria, many security forces have warned that the group could send members to Europe to carry out attacks. Before the global coalition battling IS met in July, Interpol Secretary-General Jürgen Stock reiterated the importance of international cooperation.
"Experience has shown the essential role that military-police cooperation plays in keeping pace with the threat as it disperses beyond the conflict zone," he said in a statement. "Interpol provides an established and trusted interface which supports this cooperation on a global level."
Interpol reports that it has shared the details of over 18,000 people identified as "foreign terrorist fighters" through its network. Increasingly, Interpol reports, the information is sourced from within conflict zones. "Biometric data such as photos, fingerprints and DNA profiles have already led to the positive identification of terrorists around the world, including via facial recognition," according to the statement released in July.