Judges at the International Criminal Court (ICC) on Thursday said Simone Gbagbo, the wife of the African state's former president, must be handed over to face trial.
Her husband and ex-Ivory Coast leader Laurent Gbagbo is currently awaiting trial in a detention centre in The Hague where the Netherlands court is based.
Separately, the court confirmed charges against an alleged co-conspirator, Charles Ble Goude.
All three are facing charges in connection with the country's brief civil war, which left 3,000 people dead.
The state descended into chaos after Laurent Gbagbo lost the 2010 presidential election to current leader Alassane Ouattara.
Charges over post-election violence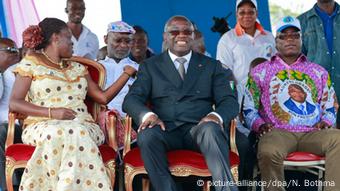 Simone Gbabgo and her husband, ex-Ivory Coast leader, Laurent Gbabgo, Abidjan, October 2010.
Laurent Gbagbo is being held in custody on charges including rape, murder and persecution of political opponents before his fall from power.
The authorities in Ivory Coast have refused to hand over Simone Gbagbo, saying she will be tried on charges of genocide in a domestic court.
The ICC is not allowed to try cases if domestic authorities are already taking action.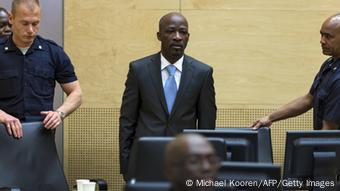 Charles Ble Goude's first appearance at the ICC, The Hague, March 2014
However, judges said Ivory Coast was not trying the country's former first lady for the same crimes, and that the authorities hadn't taken "tangible, concrete and progressive steps" to prosecute her. Both Gbagbos maintain their innocence.
If Ivory Coast continues to refuse to hand her over to face trial, ICC judges could refer the matter to the court's 122 member states, which may then decide to impose sanctions.
lw/mg (AP, Reuters)