Thousands of aid projects around the world aim to teach the blind important skills, from how to use a computer to how to drive a car. But no organization has gone as far as one institute in Trivandrum, India, where people with visual disabilities are learning to start their own initiatives.
The International Institute for Social Entrepreneurs, or IISE, is based in the Indian state of Kerala, but the program draws participants from as far away as Sierra Leone and the United States, as well as Tibet and Germany.
Most of the students attending the 11-month course are blind or have extremely limited vision. Some use crutches or struggle with other impairments - and the majority had never heard of the concept of social entrepreneurism before applying to the institute.
IISE encourages students to be self-confident and express their opinions, and teaches them how to start their own organizations.
To aid in that effort, students also learn about fundraising, bookkeeping and computers. These skills can help them help other visually impaired members of their own communities.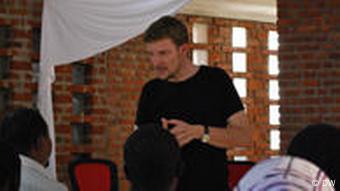 Kronenberg: 'If they can master this, they can conquer the world'
Giving back
The program was co-founded by a disability rights activist from Germany. Sabriye Tenberken has been blind since she was 12 years old. Together with Paul Kronenberg of the Netherlands, she founded Braille Without Borders, which later gave rise to IISE.
The goal was to help people help themselves, but Kronenberg said it was a difficult journey.
'We didn't want people to see Mother Theresa and think, 'Oh, I want to be like her,'" he said. "We didn't want the 'wannabes,' we wanted people to know who they were; people who say, 'Yes, I want to change something, I just don't have the tools yet, and I want to get them from IISE.'"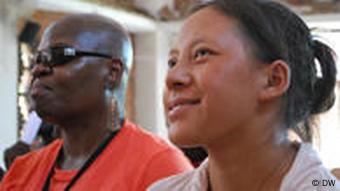 The program draws participants from around the world
The program has attracted an international group of students with diverse backgrounds, but Tenberken said they share a common ambition.

"What we seek from these people are creative ideas, drive and passion," she told Deutsche Welle. "They are the elements that draw out creativity."

Tenberken said passion is the driving force behind the institute's work. Many at IISE have struggled against discrimination, but that has only nourished their desire to rid the world of prejudice. And through it all, they have remained resilient.


"We asked ourselves, 'What makes a good leader?'" Tenberken added. "And we said, we see leaders as survivors - people that have been through a lot of hardship and survived and have discovered passion and vision along the way."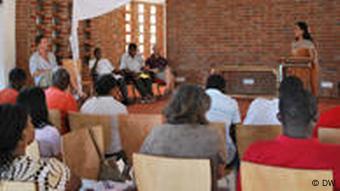 Students are taught skills such as bookkeeping and computers
'What is your vision?'

That is precisely the question that participants in IISE's program are asked almost daily. They are given the chance to examine and improve their ideas, whether it is a school for the blind in Laos or a home for street children in Lithuania.
Proposals are constantly being tweaked, and students learn to express their passions effectively, while holding their own with sponsors who want to know about the bottom line.

Upon completion of the program, graduates are given a laptop and encouraged to go out into the world and turn their ideas into practice. For some, it serves as the beginning of a new life.

The students' costs are covered, including meals and instruction. In return, they are told to go out and make their dreams into reality.
Tenberken says the institute encourages passion and creativity
But the program is demanding: Kronenberg said if they can survive the rigorous program and navigate the campus, they are ready for anything.

"We can't adjust the whole world to the needs of the blind - the blind also have to learn to survive," he told Deutsche Welle. "The campus here helps, because it's not as accessible as it seems to be at first glance. If they can master this, they can conquer the world."

So far, the institute has a solid track record. In two years, IISE has seen nearly 50 people graduate. The alumni have gone on to launch 43 projects in more than 20 countries.
Author: Adrienne Woltersdorf (arp)
Editor: Saroja Coelho