Finland has long had a reputation for innovative schooling methods, and the Me & MyCity program is no exception. It creates an environment for sixth-graders which simulates a miniature city where students work in a profession and function as consumers and citizens, as part of society.
Inside a large hall in an industrial building on the outskirts of the shipping and engineering city of Vaasa, it looks a bit like a small trade fair is going on. It has been divided into booths, each of which represents a sponsor company.
In one booth, sponsored by a supermarket chain, a girl stacks shelves while another starts up the computer and looks at inventory. In another booth that bears the logo of a major local engineering company, three students are donning hard hats and reflective vests to go on a site inspection. In another, a group of students works to get a newspaper published.
There are 55 sixth-graders here today - around 12 years old. They come from three schools in the region.
Smooth operator
Hannah Sandberg works for Me and MyCity, and she's here to help the children and make sure they all know what they're doing, and that everything runs smoothly.
She says the children here are learning important life skills.
"The children learn about society and what it's like to have a job," she says. "They get a salary, they pay taxes, they have free time and they have work duties... so they learn what it's like to be a grown-up."
"The goal is that they learn about how society works, that there are different kinds of companies, and that there are official institutions, like the city hall. Some of them learn what it's like to work for the city."
The Me & MyCity program began back in 2009, and it has now expanded to many locations throughout Finland. It's run in conjunction with Finnish universities and it attracts big-name corporate sponsors.
Here in Vaasa, the main city of the Ostrobothnia region, some 4,500 students take part in the program every year. Kukka-Maaria Kallio is the Me and MyCity regional coordinator for the Ostrobothnia region in central Finland.
She organizes these event days, and says that since the program began, some 250,000 students across Finland have taken part in it. She says some students research the companies they will be representing, and even contact them, before they take part.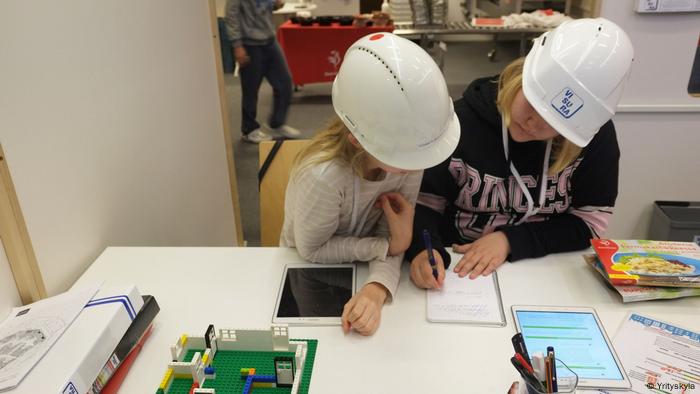 What's it like to have a job? Me & MyCity participants in Finland get an answer to this question at a very early age
"We got an email from our partner company Wartsila," Kukka-Maaria says. "They got an email from Elin, a student who's coming to Me and MyCity, to work as a CEO for Wartsila for a day. She asked about the company's philosophy, and what message she should share with her classmates."
Boosting young people's confidence
Tilde and Alexander are 16 years old, and they took part in the program a couple of years ago. Today they're here to help the students orient themselves and get their tasks done.
"It helps the students become more social," Alexander says. "It also helps with confidence, because you don't know everyone. So you get to meet new people and that builds up your confidence."
He says that when he came here he worked in one of the banks.
"It was fun," he says, "but it wasn't really my passion, I guess. Now I think I'd be more likely to go to ABB [a local alternative energy firm]."
Tilde also says her experience in the program changed her work ambitions.
"When I was here in 6th grade, I was at the post office and that was what interested me then, but now I think it would be Wartsila, because I'm interested in engineering."
Life's rough around the edges
Hannah Sandberg says it's a good thing that some students discover what job they don't want to do when they grow up. They also learn that even in a job they like, it isn't always wonderful.
"Sometimes they don't like all their tasks that they have to do, and I can tell them, that's what it's like in real life. You don't like everything that you do, but hopefully you'll like most of it."
Me & MyCity for ninth-graders, and also includes career counseling. The students take part in a role play where they manage companies and compete against each other. The winning team is the one that achieves the best operating profit and the best reputation.
Kukka-Maaria Kallio says that ethical corporate behavior — responsibility to society and to the environment — is an important part of the overall concept.
"We are taking care of the future. And everybody is concerned about children and their participation in society. It's about taking responsible actions for the future and for society."