Indonesian officials on Wednesday said at least four people had died after a ferry capsized on Lake Toba.
Transport Minister Budi Karya Sumadi and National Search and Rescue Agency chief Muhammad Syaugi said in a news conference that a search and rescue party found the bodies of three women on Wednesday, in addition to one person found dead on Monday.
The number of people reported missing following the incident surpassed 190.
"However, the 192 people reported missing as of today may not all have been on board," Syauqi said.
Only 18 people have been rescued since the overcrowded boat sank in the lake on Monday, after it encountered bad weather and two-meter-high waves.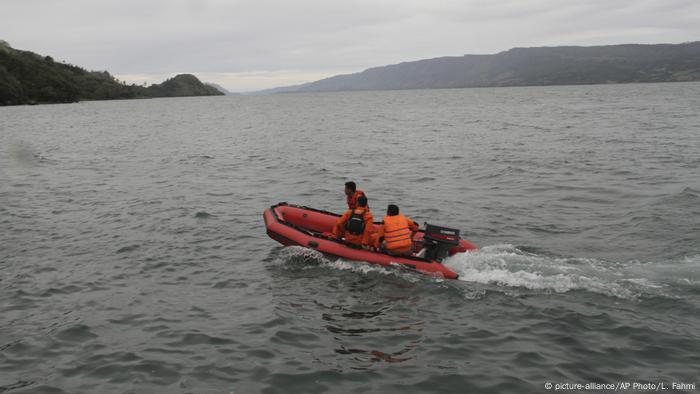 Search and rescue authorities search for bodies following the capsize of a ferry on Indonesia's lake Toba
Captain detained
Authorities on Thursday said the captain of the ferry had been detained by police for questioning. He was among the 18 people rescued.
Police said the boat's captain was also the owner of the vessel.
"The captain of the boat is now with the police," national police spokesman Yusri Yunus told French news agency AFP on Thursday. "But we haven't questioned him yet because he is still traumatized."
Ferry was overcapacity
The ferry was operating with no manifest and the passengers had not been given tickets. Officials have had to revise the number of missing several times from the initial 80 missing as families provided information.
The new number of missing means that the ferry was carrying three times its capacity when it capsized in bad weather and two- meter-high waves. It was reportedly operating illegally.
Lake Toba, on the island of Sumatra, is the largest volcanic lake in the world and a major tourist hot spot.
The disaster struck as the the Muslim-majority nation celebrated Eid al-Fitr marking the end of the holy month of Ramadan, with millions of people visiting family around the nation.
The popularity of Lake Toba is such that the Indonesian government has taken special care to try to introduce sustainable tourism measures out of fear that the high level of visitors may be destroying its natural majesty. It is currently on the list to receive UNESCO Geopark certification, which would give it a certain amount of protection through the United Nations.
With 17,000 islands in the vast archipelago that makes up Indonesia and sometimes lax security checks, maritime accidents are a relatively common occurrence.
es,law/kms (AP, AFP, Reuters)