Since the launch of the chain of Indira Canteens across Bengaluru (formerly Bangalore) in August 2017, the state-backed scheme has served as many as 30 million meals to the city's residents. The canteens offer heavily subsidized food to the public, with breakfast costing just five Indian rupees (€0.06, $0.07) while lunch and dinner each costing 10 rupees (€0.12) — a price which is as good as free for many.
The canteens, similar to soup kitchens in the West, provide simple and daily changing menu centered on local cuisine and dietary requirements.
India's urban poor remain one of the most neglected and marginalized groups in the country. It is estimated that around 65 million Indians live in urban slums, equivalent to the entire population of the United Kingdom.
These slums, often surrounding the neighborhoods of the rich and upper middle classes, are home to impoverished people who, in many cases, have migrated from their native villages in search of a better life. It's therefore not surprising that the main beneficiaries of the Indira Canteens program have been daily wage laborers, homeless beggars, low-income workers and even college students in Bengaluru.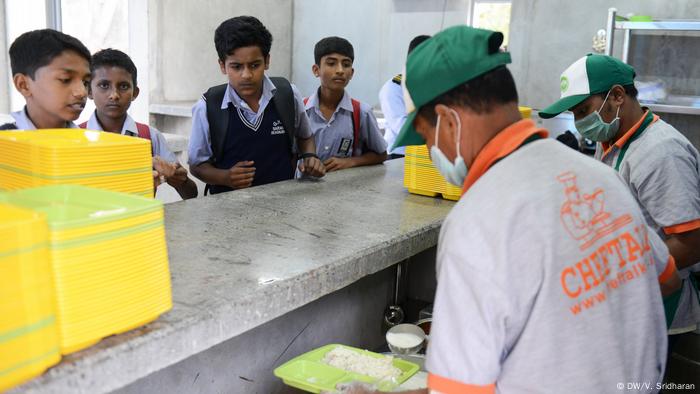 Even school and college students find the cheap meals at Indira Canteens helpful
Customer satisfaction
"I've been routinely eating in one of the Indira Canteens for the past few months," Ravi Kumar, an auto rickshaw (tuk tuk) driver who was having lunch at one of the canteens in a posh location in central Bengaluru, told DW. "This has considerably brought down my monthly expenses as I'm spending less than a quarter of what I used to spend earlier on food."
Nikhil, who gave only his first name and was standing next to Kumar in the queue, chipped in by saying: "I'm a software engineer with a small company. It's exactly the same for me as well. I've been eating lunch in this canteen, located close to my firm, since it was launched. I used to spend at least 70 rupees on a decent meal, now I wrap up my lunch for just 10 rupees."
Read more:
Why many Indians prefer sons over daughters
India to regain top global GDP growth spot in 2018-19
More than 170 such facilities have so far been set up across Bengaluru, India's tech capital with a population of roughly 12.3 million residents, serving an average of nearly 250,000 people a day. Based on the "hub and spoke model," centralized kitchens are established in each locality where the food is cooked and then transferred to canteens operating under the kitchens' limits.
Most of the canteens witness full-house crowds on weekdays, especially the ones which are located near busy locations such as colleges and hospitals. Given the wild success, the government is mulling to replicate the scheme in other parts of the Karnataka state as well.
A dedicated mobile app has also been created allowing Bengaluru inhabitants to find five canteens nearest to their location. The app not only lets users to deliver feedback about a particular canteen but also provide information about the menu for the day.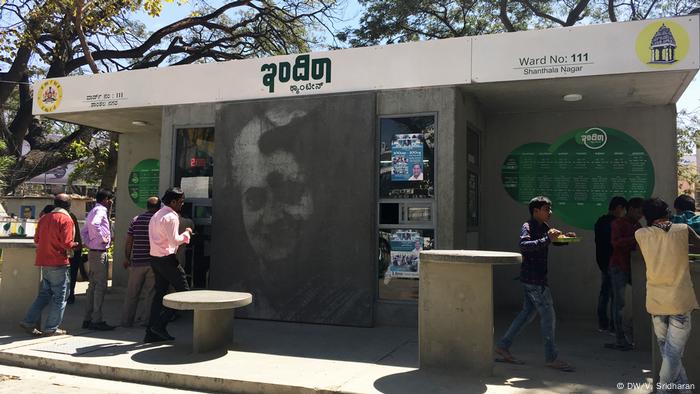 More than 170 canteens have so far been set up across Bengaluru, which has a population of roughly 12.3 million residents
Political mileage
Widely seen as a pet project of the ruling state government in Karnataka, the Indira Canteens originally borrowed the idea from the neighboring state of Tamil Nadu, where a similar chain of government-operated outlets known as "Amma Canteens" came into existence.
Named after the country's Former Prime Minister Indira Gandhi, Karnataka's ruling Congress party undoubtedly had the upcoming assembly elections in mind when the scheme was announced.
Indira Canteens pinch the state's exchequer close to €16 million a year — a negligible percentage in the overall annual budget of about €26.4 billion. The government hopes such welfare measures will reap social and political benefits.
The canteens are being managed by the Bruhat Bengaluru Mahanagara Palike (BBMP), the administrative body which manages the city's civic and infrastructural needs.
"This can be a game changer for a bustling city like Bengaluru," Manoj Rajan, special commissioner of the BBMP and chairperson of Indira Canteen Special Task Force overseeing the entire project, told DW. "The canteen is a boon for many students who are far away from home, as well as for migrants, local workers, patients, and unemployed who are not able to afford a decent meal."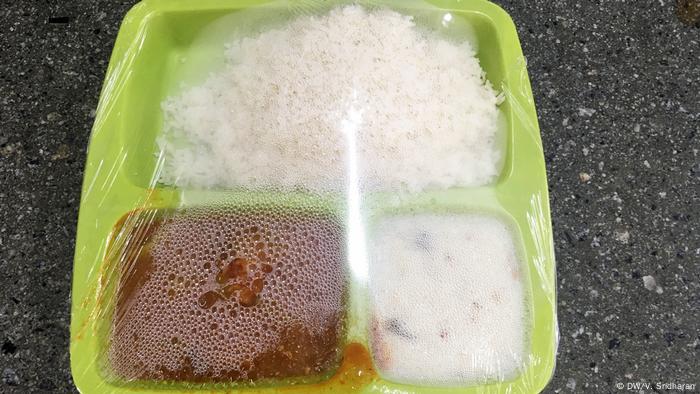 The canteens offer heavily subsidized food, with lunch and dinner each costing just €0.12
Theft of cutlery
The canteens, however, recently faced an unusual problem, with their managers complaining about widespread theft of cutlery. They found that after enjoying a meal, people were walking away with spoons and sometimes even steel glasses.
The problem dismayed many, but BBMP commissioner Rajan expressed confidence that this would not prove a major issue in the grand scheme of things.
"We've already provided CCTV and drafted in ex-servicemen for security arrangements in all the canteen facilities," said Rajan.
Noting that officials are ready to supply more spoons and glasses, Rajan said not many canteens have issued requests for additional cutlery items. Some canteens have also started providing spoons only for selected food items, he pointed out.