In an unprecedented and drastic measure against corruption and counterfeiting, Prime Minister Modi declared in a surprise television address on Tuesday evening that 500 and 1000-rupee banknotes would be stripped of their value and removed from circulation. Modi argued that removing counterfeit notes from circulation would curb the rampant shadow economy in India.
Banks and post offices are also to be closed for two days, and only after this can people exchange their old banknotes for 100-rupee (1.35 euros) notes, which are now the most valuable in India.
On social media networks in India the decision is being dubbed a "surgical strike" that is in line with India's recent military action in Pakistani-controlled Kashmir.
On the evening of the announcement, a panic of buying broke out in large cities as people rushed to spend their 500 and 1000-rupee banknotes before they lost their value at midnight. There were also long lines outside many banks.
Mixed reactions
Varinder Singh didn't experience any of this excitement and confusion. He found out that his rupee notes were worthless early the next morning when he tried to buy a bus ticket to Pakistan from Amritsar, a town on the India-Pakistan border.
The 19-year-old IT student took the news in stride, even if he only had the equivalent of three euros to last him the next two days. "Somehow, I will get through it," he said while admitting that he didn't know how he would pay the bus driver.
A kiosk owner at the bus station was worried, however, that his business would be affected. "Look around at how little business is going on here," said the man who sells drinks, chips and chewing tobacco. On this morning, he said he made only a quarter of his usual sales. "Of course, this gives me a headache."
In India's online community, which is usually known for its heated commentary, Modi's decision was received relatively well. On the front page of the daily newspaper Hindustan Times, an e-commerce company published a full-page ad featuring a likeness of the prime minister. Underneath was written: "Congratulations on the bravest decision in the history of Indian finance."
Purchasing power temporarily reduced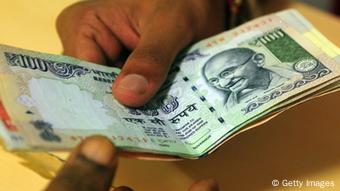 Indian media said the move was aimed to re-inject billions of dollars in cash back into the mainstream economy
Cash still plays an important role in India's economy. A report by Google India and the consulting company Boston Consulting Group (BCG) conducted in July 2016, found that about 78 percent of all financial transactions in the country take place in cash. This in turn makes it easier for widespread corruption to occur. According to an estimate by the Washinton-based think tank Global Financial Integrity, between 2001 and 2011 more than 300 billion euros have left India illegally.
Burkhart Wiegert has been advising German companies trying to enter the Indian market for 15 years. The financial expert at the Bochum-based consulting company Wamser & Batra believes that the scrapping of 500 and 1000-rupee notes will slow down India's economic growth in the short term. "The purchasing power will be reduced temporarily because of the lack in cash," he said.
Firat Unlu, India expert at the Economist Group's forecasting and advisory service believes that India's government could expect higher tax income in the long term, because the black market could shrink as a result of the ban. The move could also improve the chances for the ruling Hindu nationalist Bharatiya Janata Party (BJP) in the coming elections in the densely populated states of Uttar Pradesh and Punjab. "The BJP has made the fight against corruption tangible," Unlu told DW.