Modi's first visit to China as prime minister - from May 14-16 - will provide an opportunity to address the issues confronting the two nations and solidify the bilateral relationship. Just like Chinese President Xi Jinping, who started his India tour last September in Modi's home state of Gujarat, Modi first landed in Xi's home province of Shaanxi before heading to Beijing and Shanghai.
During the trip, the Indian leader will meet not only President Xi, but also Prime Minister Li Keqiang and a host of other Chinese leaders, and hold talks over a range of bilateral and global issues. Modi - who recently joined the Chinese social networking site Weibo - wrote that he hoped his China visit would "strengthen stability, progress and prosperity in Asia."
"Modi is the most pro-China Indian PM in a long time, and he is eager to reset
Indo-China ties," said Gauri Khandekar, head of the Asia Program at the European think tank FRIDE. The visit will largely focus on economic issues, including India's huge trade deficit with China, the analyst told DW, adding that both sides are likely to discuss existing cooperation in high-speed railway, nuclear power and electricity facilities.
Competing giants
China and India are home to a third of humanity. Hence, the relationship of these two emerging powers with other nations as well as with each other is likely to play a decisive role in tackling 21st century global challenges such as combating climate change, ensuring sustainable economic development, guaranteeing free trade, and maintaining stability.
Although China is far ahead of India in terms of its economic size and military capabilities, both nations still face similar and vexing problems: endemic corruption, air and water pollution, rapid urbanization and migrant workers, among other issues.
However, when it comes to relations between the two Asian giants, there are "areas of shared interests, and areas of significant divergence," as Gareth Price, senior analyst at the Asia Program at Chatham House, told DW.
Over the years, economic engagement between the two countries has been on the rise, with bilateral commerce worth around $70 billion in 2014. There are concerns on the Indian side about the massive trade deficit of over $37 billion the country has with its northern neighbor. Nevertheless, India and China have fixed a trade target of $100 billion for 2015.
Mistrust
But despite the common challenges and growing economic interdependence, an underlying climate of mistrust continues to permeate the bilateral relationship. A key source of apprehension is rooted in their unresolved border dispute. The two countries have conflicting territorial claims along their 2,500-mile-long ill-defined border, and they fought a brief but bloody war in 1962.
While China claims the Indian state of Arunachal Pradesh, calling it as South Tibet, India claims the Aksai Chin region - a virtually uninhabited area between China's Xinjiang province and Indian-administered Kashmir.
However, the two countries have managed to maintain peace and tranquility along the border for over a quarter of a century now, despite some occasional low-level incidents involving territorial incursions.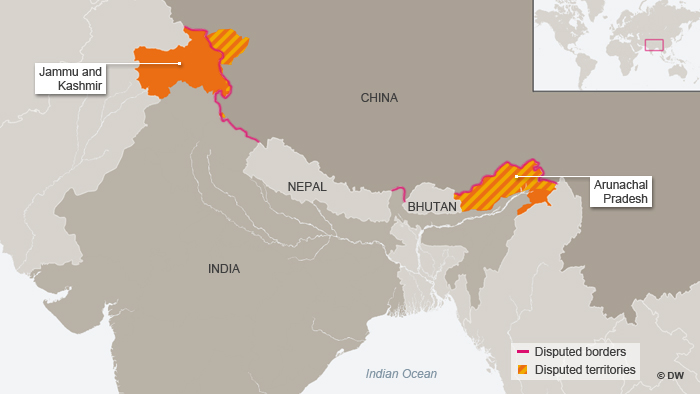 While China claims the Indian state of Arunachal Pradesh, India Claims the Aksai Chin region
"The propensity for misunderstanding is also fuelled by limited people-to-people contacts, cultural barriers and rising levels of nationalism that accompany the growing international clout of both countries," Chietigj Bajpaee, an India expert at King's College in London, told DW.
Pushing economic ties
Prime Minister Modi, whose core electoral promise was to foster economic development, has spoken of emulating the Chinese development model while attracting investment to upgrade India's infrastructure and manufacturing capacity. But Chinese investment in India amounted to a mere $400 million between 2000 and 2014, a figure which the prime minister hopes will increase in the future. When Xi visited India last year, he pledged some $20 billion in investments as part of a five-year economic and trade development plan.
Modi will also be seeking to correct the underlying disparity in the economic relationship by pushing for greater market access for Indian exports to China, said Bajpaee. India's exports to China are primarily natural resources whereas China's exports to India are largely manufactured and value-added products.
"Correcting this imbalance will entail granting Indian companies, particularly those in the pharmaceutical, agricultural and IT sectors – where India maintains a comparative advantage – greater access to Chinese markets," argued Bajpaee.
China, on the other hand, will be seeking better access to the Indian market for Chinese companies, Liu Zongyi, an expert on Indo-Chinese ties at the Shanghai Institutes for International Studies (SIIS), told DW. Beijing would also like to cooperate with New Delhi on regional and global economic issues, including reforming the international financial system, Liu underlined.
Disagreements
Beyond economics, both Xi and Modi will also hold discussions on prickly geopolitical issues. A cause of mutual distrust lies in the growing geopolitical competition between the two powers, which have strategic engagements with each others' adversaries. While New Delhi is deeply suspicious of China's increasingly closer ties with India's arch-rival Pakistan, Beijing looks warily at the South Asian nation's broadening partnership with countries such as US, Japan and Vietnam.
"China doesn't want to see India's interference in South China Sea and East China Sea disputes," stressed analyst Liu.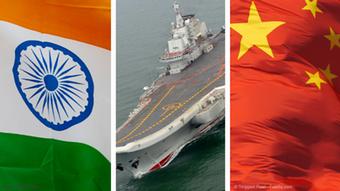 Both China and India are rapidly modernizing their militaries
This view is shared by Bajpaee. "India has increasingly injected itself into the disputes through its pursuit of deepening relations with several claimant states, including Vietnam and Japan," he pointed out. Moreover, New Delhi has echoed Washington's position by issuing a joint statement in January and calling for these disputes to be settled peacefully while safeguarding maritime security and maintaining the freedom of navigation.
In this context, Beijing will seek reassurances from New Delhi that "it will not be adding fuel to the fire of China's maritime disputes where Beijing maintains a preference for a bilateral, non-internationalized approach," Bajpaee said.
At the same time, India is likely to ask China "to abandon cooperation with Pakistan, or persuade Islamabad to eliminate terrorism in Kashmir," underlined China expert Liu.
Despite the multiple disagreements, analysts say both countries will likely discuss developments in regions such as the Middle East that now accounts for half of China's oil and 70 percent of India's energy imports. With Modi's visit, says analyst Khandekar, China will hope not only to build better ties with India but also enlist New Delhi's support for shared multilateral ambitions and mutual interests.