Will Trump's hardline anti-outsourcing pledges become a certainty? This is a burning question that is agitating captains of India's booming IT industry, especially after US President Donald Trump's "buy American, hire American" rallying cry at his inaugural address last week.
India is the world's largest outsourcing destination for the IT industry, accounting for nearly 70 percent of the approximately $130 billion market.
The IT sector and the business process outsourcing (BPO) industry, which includes back-office operations, call centers and data transcription services, together employ about 10 million workers in India.
More importantly, the industry has led India's economic transformation and altered the perception of the South Asian nation's role in the global economy.
An uncertain future ahead?
One of Trump's most important promises during his 18-month long campaign was about bringing jobs back to the US. This meant a reduction of immigration and off-shoring policies to curb outsourcing of work.
"President Trump's protectionist rhetoric is bad for global trade and markets and it could impact India's IT industry. But we will have to wait and see how this plays out in the coming months," Salim David, a former corporate advisor, told DW.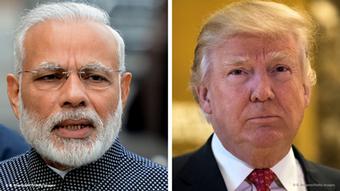 In a recent phone call with Indian PM Modi, President Trump said the US considers India a 'true friend and partner in addressing challenges around the world'
Nasscom, an industry body, estimates that the US market accounts for more than half of the country's IT exports. And the industry's concern is mainly rooted in the fate of the H-1B regime, a skilled-worker visa program, which many Indian firms use to send their employees to the US to service their clients.
Soon after Trump's inauguration, Nasscom president R Chandrashekar told several media outlets that if the US went against outsourcing then it would lose more jobs rather than create increased employment opportunities.
"The Indian IT industry helps the US on both fronts. So going against outsourcing will make the US lose jobs not create jobs. When he says 'buy American, hire American,' I'm sure he doesn't mean to 'make America less efficient,' because protectionism will hurt not just the Indian economy but also the American economy," Chandrashekar told a news channel.
A job generator
However, others like T.V. Mohandas Pai, chairman of Manipal Global Education and former member of the board of directors of software giant Infosys, said there would be no real impact because of Trump's announcements.
"There could be curbs on H-1B visas for the 85,000 available visas, and a hike in the minimum salaries paid to the visa holders to reach up to $100,000 a year. But most of the Indians who go there do not complete six years of stay in the country and avail of green cards," Pai told DW from the southern city of Bangalore.
India's ruling Bharatiya Janata Party (BJP) has also exuded confidence that US firms will have to continue to rely on Indian tech professionals to retain their competitive edge.
"For years I have maintained that Indian software companies work in a competitive environment. For businesses to stay viable there can no longer be a stop in outsourcing. It is a two-way street and there should be no fears," Arvind Gupta told DW. He heads the Digital India Foundation and also leads BJP's Information and Technology Team.
Similar views have been voiced by India's IT Minister Ravi Shankar Prasad, who stressed that the industry "has added value to America in terms of money, tax and also employment."
In a report published in 2015, Nasscom claimed that the Indian tech industry had supported hundreds of thousands of jobs in the US and paid billions of dollars in taxes.
In a recent phone call with Indian Prime Minister Narendra Modi, President Trump said the US considers India a "true friend and partner in addressing challenges around the world." The statement seemed to suggest continuity in ties. However, the conversation did not cite specific areas, sectors or goals where both sides will seek to strengthen the relationship.
Meanwhile, a delegation from Nasscom is expected to visit the US in the next couple of months to meet with US policymakers, legislators and the new administration to make a case for easier visa rules.