It first began with a ban in March on certain newspapers in state-funded libraries, and then was followed up by the arrest of a professor for allegedly circulating a cartoon targeting West Bengal chief minister Mamata Banerjee.
Now, the latest diktat by the Trinamool Congress (TMC) chief, who once again finds herself in the eye of the storm, is that none of her party members should have any contact with any Communist Party of India (Marxist) leaders or even anyone related to a Communist party.
Dangerous trends
The incidents sparked outrage among the academic community, artists and civil society. The topic went viral as web users on Twitter and other social networks mocked and criticized the order.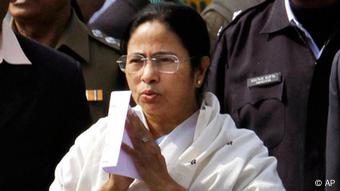 Intellectuals are speaking out against Mamata Banerjee
"It has not even been a year since she came into power and Mamata has emerged as a politician who does not want to listen to others. This is authoritarianism. It mocks constitutional values and our freedoms and deserves to be condemned," writer Sunil Gangopadhya told Deutsche Welle.
"In only eleven months you have proved yourself to be a grotesquely disastrous chief minister. Madam, perhaps it might be time for you to resign and go," wrote novelist Ruchir Joshi in a scathing open letter.
This is not the first time in the country that such acts of censorship have drawn the ire of intellectuals and citizens.

Protests - in some cases, even violent ones - against plays, films, books and paintings regarded as "distasteful" are known to have happened. To please constituents, the political class also has in the past proscribed books- and in some cases still does.
"It is called the terrorism of power. Banning books, denying visas, passing censure motions, opening up tax cases selectively, these are all simple acts of privilege that are available to those wielding power," argues social commentator Santosh Desai.
"The instrument of choice is fear, and the message is for the so-called trouble makers to exercise a form of self-censorship."
Several examples of gag orders and bans
Just recently, US historian Peter Heehs, who has spent nearly four decades in India, faced deportation following complaints made by some of Sri Aurobindo's followers that he had allegedly depicted a distorted picture of the freedom fighter and spiritual leader in a biography.
It was only after some historians petitioned the prime minister that his visa was extended for a year.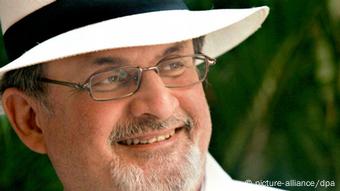 Rushdie has been criticized for his 'Satanic Verses'
Another case in point is the continuing campaign against Booker Prize winner Salman Rushdie who was prevented from making an appearance or even addressing the Jaipur Literature Festival through a video link early this year.
The political class thought his presence would mar a poll in which the vote of the Muslim community was deemed to be crucial. His book, titled The Satanic Verses, was published over 20 years ago but the controversy lingers.
There was a virtual action replay at the Kolkata Book Fair a few days after the Jaipur jamboree. The target this time was Bangladeshi writer Tasleema Nasreen. A Muslim group - the All India Minority Forum - forcibly prevented the release of her new book, "Nirbashan" (The Exile) accusing her of "insulting Islam."
Last year, the Gujarat government imposed a ban on Pulitzer Prize-winning author Joseph Lelyveld's book which reportedly talks about the sexual preferences of Mahatma Gandhi.
"Any book, film, piece of art, which does not conform to set patterns and tries to be open and bold, now faces this risk. India's record in this respect is shocking - especially for a vibrant, free and open society upon which it prides itself," sociologist Sanjay Srivastava told Deutsche Welle.
With the recent developments, it appears as though the idea of pluralist tolerance which forms the structural framework of Indian democracy is now beginning to fray.
Author: Murali Krishnan
Editor: Sarah Berning