India and South Korea have signed a civil nuclear deal that allows Seoul to sell its nuclear reactors to India. South Korean President Lee Myung Bak and Indian President Pratibha Patil finalized the agreement on Monday following a year of negotiations. President Lee termed it a historic demonstration that two countries have truly become strategic partners.
The pact will provide South Korea legal ground to participate in India's nuclear power plant projects. The agreement has come on the second day of Pratibha Patil'ys seven-day visit to South Korea and Mongolia.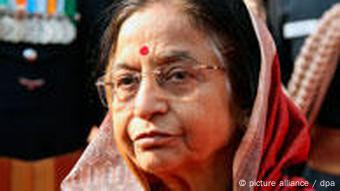 Indian President Pratibha Patil has finalized an agreement with South Korean President Lee Myung Bak
Following the historic Indo-US nuclear deal in 2008, the Nuclear Suppliers Group (NSG) gave India an exemption that allows it to buy nuclear material from the organization's member states. India has since then signed nuclear trade agreements with France, Russia and the US.
Both India and South Korea decided to start talks on civil nuclear cooperation during a meeting between Indian Prime Minister Manmohan Singh and South Korean President Lee Myung Bak on the sidelines of the ASEAN summit in Hanoi last year.

Growing friendship
Seoul's Korea Electric Power Corp (KEPCO) seeks cooperation with Nuclear Power Corporation of India to tap into India's market for nuclear power plant construction. According to the World Nuclear Association, India is aiming at producing 25 percent of its electricity from nuclear power by 2050. India has to find ways to keep up its energy supply to fuel its rapidly developing economy.
Besides the agreement on nuclear cooperation, the two sides also signed a Memorandum of Understanding on media exchanges and an agreement on administrative arrangements that will provide social security to people working in India and South Korea.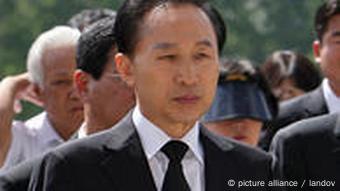 South Korean President Lee Myung Bak signs agreement after a year of negotiations
India also conveyed to South Korea its willingness to upgrade the Comprehensive Economic Partnership Agreement. New Delhi has invited Korean companies to invest in India and explore business opportunities. Both presidents agreed to encourage people-to-people exchanges and to start more direct flights between India and South Korea.
Both countries have also discussed ways to enhance defense cooperation. India is aiming for increased naval and cost guard cooperation, co-production of defense equipment as well as the transfer of technologies.

Author: Sachin Gaur (PTI, AFP, yonhap)
Editor: Sarah Berning