German Chancellor Angela Merkel, paying a previously unannounced visit Saturday to Afghanistan, told President Hamid Karzai that Berlin would do more to train the struggling Afghan police force.
The poor performance of the police has led to charges that Berlin did not follow through on earlier promises to help build a neutral, corruption-free police in the nation.
Merkel assured Karzai in Kabul that the training would be stepped up. She said Berlin's objective was to gradually put Afghanistan in a position to manage its own destiny.
"Reconstruction has to gain more of an Afghan face," she said.
We said Afghanistan was making progress, although there were still serious problems to overcome.
"Therefore, besides helping with development aid, we will boost economic cooperation with companies in the future as well," she added.
Kazai praised Germany as an "old friend" for its help since the 2001 fall of the Taliban.
High security
Highlighting the problems Afghanistan is still facing due to a resurgence of Taliban forces, security for the chancellor was extremely strict. In secret planning, German officials ensured that she used Kabul's dangerous roads as little as possible.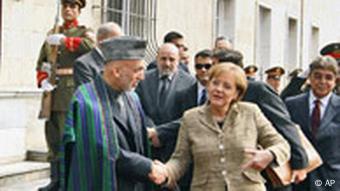 Merkel made the trip to visit German troops and meet with Karzai.
To avoid the risky road from the airport into the city, she flew the leg by helicopter with US helicopter gunships escorting her as outriders. Merkel wore a shrapnel-proof jacket while on board.
The chancellor repeated Germany's refusal to deploy troops permanently in the embattled south. Under current agreements, German troops from the more peaceful north can only be used if the Taliban is on the verge of victory.
Merkel said Germany would stand by its allies "in dire need," but it would be a mistake not to pursue the mission in the north on its existing scale.
Thanking the troops
The chancellor's departure Friday night from Berlin, where she usually has a busy weekend schedule, was mainly aimed at thanking the German troops and civilian aid workers.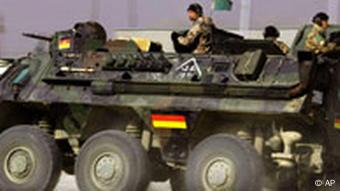 German soldiers are in the relatively peaceful north of the country
She met German soldiers at the Kabul headquarters of ISAF, the international peacekeeping force. At a news conference, she expressly praised the work of the German civilians too.
She was also scheduled to tour the headquarters of German troops in Mazar-i-Sharif in the north.
It was Merkel's first trip to Afghanistan as head of Germany's grand-coalition government.
Last month, the Bundestag, the lower chamber of the German parliament, voted to extend authorization for Germany's contingent of 3,150 military personnel in Afghanistan. The German troops arrived there in 2002.