Watching snippets of Jadon Sancho's performance against Hertha Berlin, one would be forgiven for thinking Borussia Dortmund have a bright future ahead of them.
Sharp bursts of pace down the left wing were intertwined with fancy footwork and an admirable workrate; the 17-year-old Englishman looked the goods in just his second professional start.
With Dortmund on the ropes in Berlin, trailing 1-0 and lacking penetration in the attacking third, Sancho stepped up where his more experienced teammates stumbled.
Jumping on a loose ball just outside Hertha's box, the youngster saw a first attempt to cross blocked. But he recovered immediately to float an inch-perfect second effort into the path of Shinji Kagawa.
1-1 and Dortmund were in the ascendancy.
The German capital has not been a happy hunting ground in recent years. Dortmund last won at the Olympiastadion in 2014. And on Friday they failed to make late pressure count, traveling back home with a solitary point.
Problems greater than absent Aubameyang
While Pierre-Emerick Aubameyang's absence could be used as an excuse - there were opportunities which the Gabon international would have snapped up - Dortmund's problems run a lot deeper than one rogue star striker.
Sancho was a lone bright spark in an otherwise underwhelming performance for the Black and Yellows. They didn't place a shot on target in the first half, and in the second period a number of chances went begging.
It is damning that a 17-year-old shouldered much of Dortmund's hope in attack. Not to take anything away from Sancho, but if Dortmund's more experienced stars were performing he wouldn't be near the starting XI.
Mario Götze and Andre Schürrle once again failed to produce. Schürrle, who played as the sole striker, was listless throughout.
And when Dortmund were searching for an equalizer, it was another youngster in Alexander Isak who coach Peter Stöger turned to rather than 28-year-old Andriy Yarmolenko.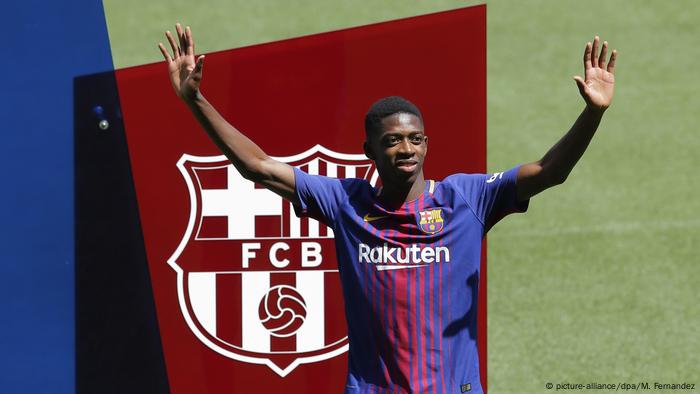 Dortmund have failed to replace players such as Ousmane Dembele
While it is great to see youth given a chance and capitalize on those opportunities, Dortmund's transfer blueprint is threatening to fall flat if they can't surround these promising talents with experienced, capable heads.
Sancho and Isak join others such as Christian Pulisic, Julian Weigl and the departed Ousmane Dembele as examples of Dortmund's success in the transfer market.
Replacements not found for big names
But there has been a distinct failure to replace departing stars such as Robert Lewandowski, Mats Hummels and Ilkay Gündogan, to name a few, with like-for-like replacements.
Raw, promising and exciting talent should be an integral part of any successful club, but Dortmund are falling behind in getting the basic framework in place.
CEO Hans-Joachim Watzke has to take a large portion of the flak. Dortmund's squad barely looks like a worthy Champions League participant, let alone a challenger for Bayern Munich's Bundesliga crown.
Aubameyang's imminent departure is taking all the headlines as Dortmund limp towards February. A replacement has to be found, and fast. But even if they manage to attract a striker as prolific in front of goal as their current star man, it will not be enough.
If Dortmund can't put together a competitive team to support the young talents they keep unearthing, it will all be in vain. The next crop will depart before reaching their potential, undoubtedly filling the club's coffers with profits but ultimately leaving with the trophy cabinet with nothing but cobwebs.