From a good table at a Parisian restaurant to an airport pick up for a man supposed to be her nephew and even Grand Prix tickets in Australia, emails sent from France, Morocco, Australia and Hong Kong from someone claiming to be an aide to Brigitte Macron, the wife of current French President Emmanuel Macron, sought a range of special benefits over a period of weeks.
But none of the emails came from people who were in any way connected to Brigitte Macron.
While she lives with her husband in the Elysee Palace, in keeping with tradition, she holds no official role of her own although she attends formal ceremonies, greets guests and travels with her husband. There is no first lady title in France. Macron, a former teacher, promotes education reform and improved opportunities for people with special needs such as autism.
"An investigation is underway," a spokesperson from Brigitte Macron's office said, adding that no one ever turned up at the hotels or restaurants where the emails had been sent. Macron herself is not involved in the lawsuit.
The scammers used the email address cabinet@presidence.fr, which has no link to the Elysee.fr official website of the president. Presidence.fr is an art gallery in Paris, just across the street from the presidential palace.
Other cases on the same lines
Two Frenchmen went on trial in March accused of stealing Emmanuel Macron's online identity when he was running for president in 2017. His election campaign complained of frequent attempts to hack into its website.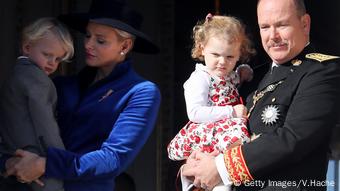 Prince Albert II of Monaco with his wife, Princess Charlene, and children
In Monaco earlier this month, the government confirmed that identity thefts had been used to target the principality's rich and wealthy in attempts to obtain money.
"For several weeks, individuals who are part of organized groups, have been stealing the identities of high-ranking personalities in the principality and trying to establish personal contact with them … notably through electronic messages, SMS or video-conferencing via a WhatsApp type of application," the statement said. "All this is intended to obtain, under the pretext of an urgent financial need, money transfers from foreign bank accounts, particularly in Asia."
Police in Monaco, the small state between Nice and Menton on the French Cote d'Azur, have launched an investigation.
jm/sms (AFP, AP)
Each evening at 1830 UTC, DW's editors send out a selection of the day's hard news and quality feature journalism. You can sign up to receive it directly here.