He almost didn't survive.
Just 18 years old, Hasti Khan was celebrating a wedding in Helmand Province in southern Afghanistan when his village was attacked from the air.
Hasti was severely injured.
With grenade shrapnel in his stomach and burns all over his body, he had to wait until early the following morning before he and his brother Abdul were able to start making their way to a hospital.
"There are landmines everywhere and it's almost impossible to travel any of the local roads - it's so hard," says Adbul.
They couldn't find an ambulance and a taxi drivers refused to take them.
And when finally - having taken a number of detours - they reached the Mirwais Hospital in Kandahar, Hasti was unconscious.
"Unless you're about to die, you're unlikely to go down that road," says his brother.
But Hasti is no exception.
"In places like Afghanistan, where I was stationed for the past two years," says Bijan Farnoudi at the International Committee of the Red Cross in Geneva, "mothers with small children would arrive almost daily, complaining of easily treatable illnesses, but ones that would often become deadly because they had been too scared to leave their homes to come to the hospital."
Deadly checkpoints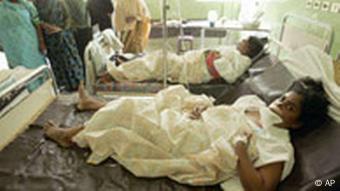 Sri Lankan forces deny targeting civilians, but many were injured
In conflict zones across the world, the roads to hospitals tend to be blocked by checkpoints at which armed men arbitrarily decide who is allowed to pass.
According to Alberto Cairo, who heads the ICRC's orthopedic program in Afghanistan, even medical staff can be denied permission to pass from one day to the next.
"Suddenly, the commander of a certain area is not the commander [he was] before - the one who knew us," says Cairo, "and now it's dangerous to go."
"You don't know the person that you have to deal with, so because of that we don't go out and even Afghans in our team cannot move - it's too dangerous," Cairo says.
But Afghanistan is only one example of what is a fundamental problem.
In conflict zones around the world, bad security is restricting people's access to health services just when they need them most.
Countless people are dying because the way to the nearest hospital is unpredictable and life threatening. Medical personnel and ambulances are attacked and hospitals can come under live fire.
Millions are affected
In an attempt to measure the extent of the problem, the ICRC has registered and analyzed incidents in 16 countries in which it is active.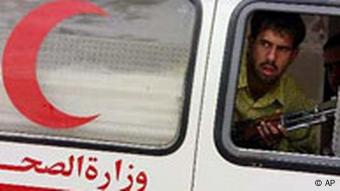 An armed Iraqi guards an ambulance at Saddam City hospital
The results have shocked even experienced humanitarian aid workers.
"We realized that attacks and other acts of violence are very common," admits ICRC director Pierre Krähenbühl.
"And we were horrified to note that in many cases," says Krähenbühl, "people did not die because of the attack itself, but because of the delays they encountered while trying to get to a hospital to get First Aid."
It has the knock-on effect that millions of citizens end up being at risk because of the attacks happen - or the threat of attacks - which the health services face daily.
The ICRC says this presents one of the biggest humanitarian challenges of our times, but one that gets the least recognition.
Most incidents happen without the greater public ever learning the details.
But some cases do make it through.
In 2009, during the final stages of the Sri Lankan civil war, government forces were accused of directly targeting hospitals in areas held by the separatist Tamil community. At the end of 2009 in Somalia, 22 people were killed during an attack in Mogadishu, where medicine students had been celebrating their graduation. And in Bahrain, the ruling authorities imprisoned dozens of doctors and nurses for tending to demonstrators, who had been injured when their protest was crushed in early 2011.
'Something has to change!'
The ICRC has now started a world wide campaign to get the issue on the international agenda.
It wants all stake holders in conflict zones to urgently come together to find a solution.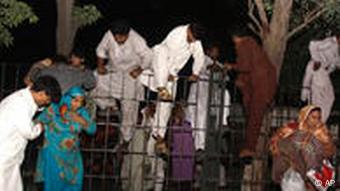 Climbing the fence to escape an attack at Jinnah Hospital in Lahore, Pakistan
ICRC spokesman Bijan Farnoudi says there are many possible ways to improve it.
"For example, countries should prepare their forces for precisely these incidents at the checkpoints, so that when they arise, the troops know exactly what to do," he says.
The message for governments and armed forces is clear - that they should respect the neutrality of medical personnel and guarantee the right to medical attention for civilians caught up in the fighting.
"Wounded people, sick people, should have the right to be treated and to reach hospitals and clinics any time," insists the ICRC's Alberto Cairo. "Something has to be done!"
Cairo has worked in Afghanistan for more than 20 years. He says that even if attacks on medical staff and their patients are widespread, there is no need for the situation to stay that way.
Author: Claudia Witte / za
Editor: Rob Mudge