Parliamentarians in the Nordic country overwhelmingly passed the bill on Thursday, with 43 yes votes to just one no. Speaking to DW, Helgi Hrafn, a member of the party which proposed the bill, said it was a law he had been wanting to put forward for a long time.
"The Pirate Party in Iceland wishes to defend and expand freedom of expression. This particular article is the most glaring fault in the general criminal code, which is why we proposed it," he said. Legal protections from hate speech and incitement remain in place.
On its website the Pirate Party states its core policies are the protection of civil rights, freedom of information, transparency and direct democracy. The group brought up the legislation in January of this year, shortly after the extremist attack on French satirical magazine Charlie Hebdo. Hrafn acknowledged that although there was "a connection with the timing" between the two, blasphemy being against the law is a "profoundly barbaric and backwards idea."
"We're not going to be scared of freedom of expression because somebody does something bad. We can't allow that," he told DW.
"Freedom of expression is not going to bow down to threats."
The group's ratings have surged since it won three parliamentary seats in 2013, with one recent opinion poll making the Pirates Iceland's most popular party.
A dangerous precedent
Under the previous code, accused blasphemers could face prison time if found guilty. Hrafn argued the criticism that the law was rarely or never applied was untrue, and cited a 1997 case against an Icelandic comedy group as an example of it being used to silence people. "Because of pressure from the clergy the police questioned them, and for a few months they had to wonder if they would be prosecuted," he said.
Several countries have become notorious for their hardline stance on crimes such as blasphemy. In Pakistan on Friday, a Muslim cleric was arrested for supposedly leading a mob against a Christian couple accused of desecrating the Koran. It followed death sentences for a man with a history of mental illness and a Christian woman last year. In the wake of the Charlie Hebdo massacre, France has cracked down on anyone it sees as supporting terrorism, leading to comedian Dieudonne being convicted for Facebook comments he posted in the days after the attack.
Germany too has seen calls for its blasphemy laws to be scrapped, with a member of the country's Protestant church ealier this year saying that while it may be distasteful, legally it was "an exercise of fundamental rights." Those who break the country's 144-year-old law could be handed prison terms of up to three years, at least in theory. Yet Germany has been a vocal opponent of Saudi Arabia's jailing and flogging of blogger Raif Badawi for "insulting Islam."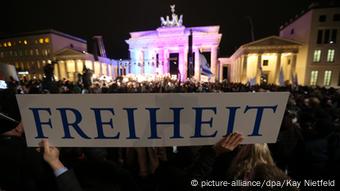 Freedom of speech again became a hotly-debated topic following the Charlie Hebdo attack
'Practice what we preach'
Hrafn says it was "obnoxious" laws like these that undermine complaints over other nations' curbs on free speech. "If we are to honor freedom of expression it's not enough for us to point at somebody else and brag about how Western culture is supposedly much better at freedom of speech, we have to practice what we preach," he told DW. "We have to allow speech that goes no further than to offend the occasional person.
"People do not have a right to never be offended."
The Icelandic Ethical Humanist Association described Thursday's decision as sending "a vital message to the rest of the world."
"Nations which maintain blasphemy laws with serious consequences should not be able to point to Iceland and say that it has the same kind of law," a statement read.
Despite the law's abolishment, Hrafn insists that Iceland is far from perfect. "Iceland is by no means any sort of a role model when it comes to freedom of expression - not on the legal books," he said. "There are many problems here, and this is the most silly one, but there are more to be fixed."