Highlighting that the "security environment in Europe and the North Atlantic region has changed" over the past 10 years, the US and Icelandic governments confirmed Thursday they were renewing a 65-year-old military partnership.
The two nations signed a joint declaration that will see US soldiers return to the tiny island, reversing a 2006 decision to withdraw the small contingent of troops stationed there.
"We want to especially emphasize the timely presence of US military forces in Iceland, reflecting a steady rise in our cooperation," said Iceland's Foreign Minister Lilja Alfredsdottir.
Under the deal, the Icelandic government will continue to allow the US military and NATO to upgrade and access the former Keflavik navy base for "mutually determined efforts that support the defense of Iceland and the security of the North Atlantic Treaty area," a joint statement said.
Renewed commitment
The move follows an increase in military exercises in the North Atlantic in recent years, with the US military conducting annual NATO air surveillance in Iceland. Anti-Submarine Warfare teams have also been operating from the island on a rotational basis.
As part of the agreement, Washington reaffirmed its 65-year-old commitment to the defense of Iceland "with dynamic and mobile means and forces."
During World War II, the Keflavik military base was a key US base, and it remained important to the NATO alliance during the Cold War.
Its usefulness to the alliance then dwindled over the years, prompting Washington to withdraw its armed forces in 2006.
Analysts said rising concerns about Russian military objectives in the Arctic and northern sea routes have led to the renewed commitment.
Suspected Russian submarines have been spotted several times in recent years in the North Atlantic, around the UK, off Norway and in the Baltic Sea.
Mounting tensions with Moscow have seen a renewed commitment to NATO by the US in recent months and have seen countries like Sweden mull the idea of joining NATO.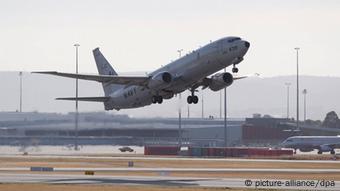 The P8 Poseidon conducts anti-submarine warfare
Washington has allocated around $21.4 million in its 2017 budget to renovate the Keflavik base in order to be able to station Boeing P-8 Poseidon reconnaissance aircraft at the facility.
Iceland is the only NATO member with no standing army. The country's defenses consist of the Icelandic Coast Guard and the National Security and Special Forces Units.
mm/blc (AFP/Iceland's Ministry for Foreign Affairs)