The government in Budapest said on Monday that its cabinet had met to discuss the situation regarding illegal immigration.
"The cabinet heard an account of the state of readiness of the temporary security fence at the border. Minister Hende Csaba offered his resignation after the meeting," an official statement said.
Hungary was building a barbed wire fence to keep thousands of refugees from heading into the country from Serbia. The Hungarian Prime Minister Viktor Orban was unhappy with the speed with which the fence was being constructed, Reuters news agency quoted an official who spoke on condition of anonymity as saying.
The defense minister's job has now been handed out to Istvan Simicsko, also a member of Orban's Fidesz-Christian Democratic Party alliance.
The prime minister has been at loggerheads with members of the European Union after he refused to cave into EU demands to accept more migrants. Orban has hit back at Germany, saying its readiness to accept all refugees was fueling chaos in his country.
Police clash with migrants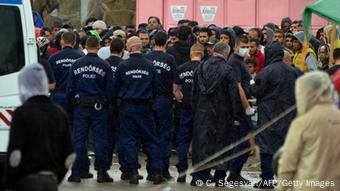 Hungarian pilice officers stand on guard in the refugee camp of the Hungarian-Serbian border
Tensions broke out between migrants and police at Roszke, on Hungary's border with Serbia. The Hungarian police had been escorting the migrants to a transit camp for fingerprinting and processing their entry into the Schengen zone. However, the group of around 300 refugees broke the lines and police were unable to prevent their escape despite using pepper spray.
Meanwhile, Macedonia was hosting another 2,000 people who entered the country from Greece. Another 8,000 were waiting on the Greek side to cross over to Skopje's territory. Large crowds resulted in a lot of pushing and shoving, but there were no serious incidents until now.
Macedonian authorities have delivered nearly 64,000 permits for refugees to travel through the country and reach the passport-free Schengen zone.
More than 340,000 migrants have arrived in the EU this year. France has agreed to host 24,000 people while Germany awaits at least 800,000 this year. Chancellor Angela Merkel has said her country would ensure that those who need protection receive it, but asylum seekers from safe countries will be sent back to their homelands.
mg/jil (AP, AFP, Reuters)