A 6.4 magnitude earthquake has hit western Iran, state broadcaster IRIB reported late Sunday.
According to the US Geological Survey, the quake occurred at a depth of about 10 kilometers (6.2 miles) near the town of Sarpol-e Zahab in Iran's Kermanshah province.
The governor of Kermanshah province, Houshang Bazvand, told Iranian state TV that more than 700 people had been hurt. Hundreds were brought to local hospitals, although state TV on Monday said that only 33 had to stay overnight.
The area, which borders Iraq, suffered a quake of a similar magnitude last year, and some of its victims are still homeless.
Read more: Iran's Rouhani calls for all Muslims to stand against US
Local media reported that residents fled in fear into the streets after Sunday's quake.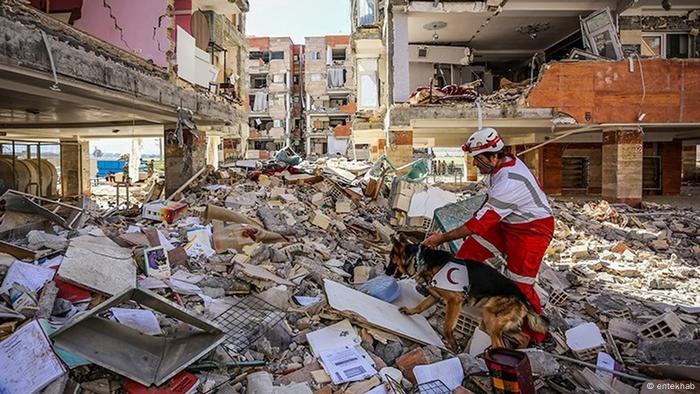 More than 700 people were hurt in the quake
"Fortunately, the quake was not near bigger cities. But it might have caused damage in villages, and I hope not that many villages are located where it hit," Ali Moradi, head of Iran's seismology center, told state TV.
Felt hundreds of kilometers away
The quake was felt across seven Iranian provinces, and also in neighboring Kuwait and the Iraqi capital, Baghdad, local news agencies reported.
Authorities said that six rescue teams had been deployed immediately and that the country's army and paramilitary Revolutionary Guard were also responding.
Read more: Iran confident nuclear deal can be salvaged as Britain stresses commitment
Iran is located on major seismic faults and experiences an earthquake every day on average. Last November, a magnitude 7.3 quake hit near Sarpol-e Zahab, a predominantly Kurdish town, killing at least 620 people and injuring thousands.
The region nestled in the Zagros Mountains, which was largely rebuilt in recent decades after Iran and Iraq's ruinous 1980s war, saw many buildings collapse or sustain major damage in the 2017 quake.
In 2003, a 6.6 magnitude quake in Kerman province killed 31,000 people and flattened the historic city of Bam.
mm,es/ng (AFP, AP, dpa, Reuters)
Each evening at 1830 UTC, DW's editors send out a selection of the day's hard news and quality feature journalism. You can sign up to receive it directly here.