"This is literally an unbelievable case which the authors portray in a gentle and reserved manner," said the jury in a statement.
Oury Jalloh, a young refugee from Sierra Leone, died in January 2005 in a detention cell in the eastern German city of Dessau. The authorities quickly ruled the case of suicide but conducting a more thorough investigation after pressure from journalists and human rights organizations.
Although the exact circumstances and the cause of the fire still are unclear, it was found that Jalloh had been tied to a supposedly fire-proof mattress and had burnt to death. Nobody had reacted to his cries for help and to the signals from the smoke alarm.
"He died several times," explained director Kolvenbach. "His childhood died in Sierra Leone's civil war. He then fled to Germany where his future died and then he burnt to death in the cell. We actually wanted to use this terrible and dramatic case to point out the fate of those who come here. They have a prehistory."
This film provoked concern and reflection among many in the 600-strong audience at the awards ceremony in Nuremberg.
"I think that the skepticism there is about the state is made clear by this film, which warns against saying all is well here in Germany and everything is democratic, and shows that human rights are also in danger here," said one member of the audience.
Another audience member agreed that the film prize and the activities of human rights groups were proof of the existence of human rights problems in Germany, but also pointed out that it was "at least possible here to talk about such topics, even if they are controversial or critical."
A different picture of Africa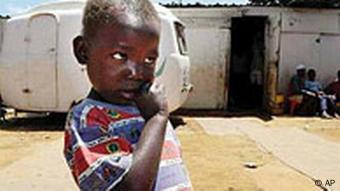 There are over 600,000 AIDS orphans in South Africa
The prize for best amateur production went to a five-minute-long music clip directed by Michael Spengler. "Akhona" tells the fate of a boy in South Africa who is placed in an orphanage when his mother dies of AIDS. His only desire is to go back to his home and his family and friends.
"We wanted to show a different picture of Africa from the one we're used to," says the clip's singer Steen Rothenberger. "A picture that is happy, a picture that is proud but one that still talks about the problems. We want there to be communication between the two continents, between here and there."
The jury was particularly impressed by the director's use of color and the avoidance of cliches.
Emotional toll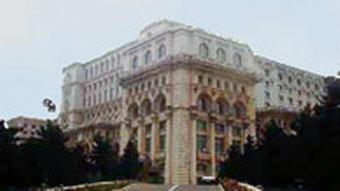 As Romania enters the EU, issues such as forgotten psychiatric patients and orphans will need to be addressed
The directors of these films invest a lot of time and money into their work, which can also take a huge emotional toll. The 27-year-old student Tobias Müller was awarded a prize for "Banffy Castle" -- his depiction of the miserable conditions of forgotten patients in a Romanian psychiatric clinic.
"It really really got to me and to Beate, the camerawoman, too. The physical circumstances there -- the cold and the situation's narrowness -- which we also experienced were not so bad as such, but the fates of these people," said Müller. "We couldn't really help and then we had to film it all which made us feel very uncomfortable and depressed us. When we watch the film today, it sets a whole load of emotional things in motion."
The human rights film award was established in 1998 by the city of Nuremberg. The city was tainted by the Nazi Party Rallies held there under Hitler's regime. It has since become closely associated with human rights, partly as a result of the trials held in 1945 against members of the Nazi leadership.
This year's event was a collaborative effort of 16 organizers, including Amnesty International and the German branch of UNESCO.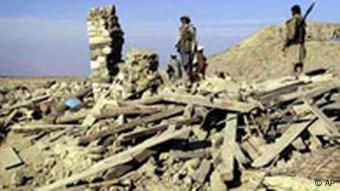 For some TV stations, Afghanistan is already old news
For many directors, the festival is a way of getting exposure that their films might not otherwise have. It is becoming increasingly difficult to show these human rights films on television but if the directors are lucky, or have good connections, they might get a late-night slot.
Jutta von Stieglitz-Yousufu came second in Nuremberg with her film about the re-opening of a theater in Afghanistan. She recalls being told by one TV station: "Afghanistan, that was three years ago already -- don't you have anything about Iraq?"