Who knows why it's called a movement. But around Europe, more and more people are becoming Quantified Selfers. They are joining the Quantified Self Movement. They track and log how they sleep, what they do everyday and for how long, what they eat, the number of phone calls they make, the quality of the air they breathe, their moods and physical condition.
It's become a subculture, where Quantified Selfers meet regularly to talk about themselves and the apps they use to track their lives.
A lot of the apps will use the cloud to store your data.
And it's raising questions over privacy and data protection.
At a recent meeting in Berlin, about 100 people gathered at Google office's to share their data and experiences of tracking their lives.
The movement is growing rapidly - this meeting was for the Berlin chapter alone. And health was high on the agenda.
Growing health tracking market
With the rise of self-tracking, developers are tapping into what they consider a growing health market by creating apps that can log and share information about a user's well-being.
Frank Westermann is the co-creator of a mobile app for diabetics.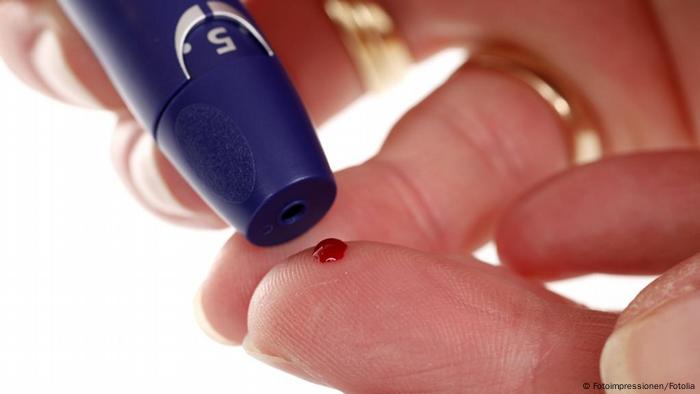 Diabetics have to track their blood sugar levels regularly
"People with diabetes need to track their blood glucose levels," says Westermann, "they need to track their intake of carbohydrates and they need to track their activity to calculate the [dose] of insulin they need to give themselves. So this data is really vital. I have needed to do this for more than 17 years. And every diabetic should do it because only with that data can you improve you diabetes therapy."
The app is called MySugr. Westermann uses it himself. And since he started logging data with mySugr, he says his blood glucose level has dropped by more than 25 percent.
"We found that most diabetics do not log this data because it's a time-consuming task, it's annoying, and it's boring. And the way we changed that is by introducing gamification elements - you earn points if you log your blood glucose level and the daily goal we give our users is to reach 50 points and with these 50 points they win their daily battle with diabetes," says Westermann.
The app has more than 15,000 users in Europe. It's claimed to be the continent's most widely used app among diabetics for tracking sugar levels. Feedback from other users, says Westermann, is encouraging.
Who cares about third-party access?
Data entered into the app is stored on the mySugr servers.
MySugr says it anonymizes the data before sharing it with third parties, who may use it for scientific purposes.
But Holger Dieterich, curator of the Start-up Digest, a newsletter for IT start-up events in Berlin, says questions need to be asked about what happens to the data.
"A year or two ago, this was very much a technical debate - you know, what can be done with meters, or measuring your heart rate, or whatever. It was lots of geeks out there interested in data, mostly," says Dietrich. "But the other perspective is who owns this data? And what can be done with this data?"
Yu may well call it a privacy issue - but not all users say they care about privacy.
Christian Heller is the author of "Beyond Privacy."
Heller is a self-tracker, but he doesn't use mobile apps. Instead, he logs his data - including information on how often he has sex - on the Internet.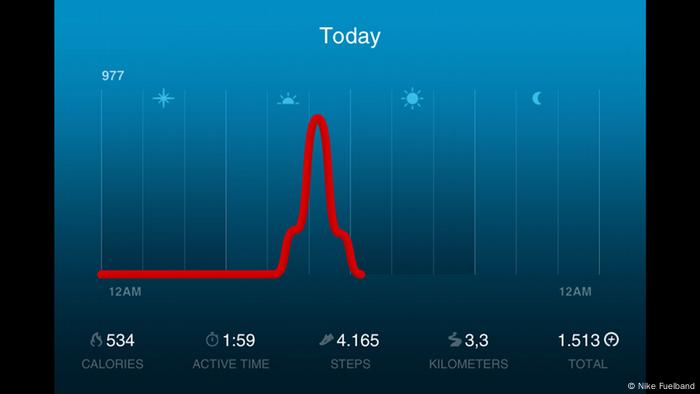 Other apps like Nike Fuelband are also popular among quantified selfers - Fuelband tracks physical activity
"I think the great discoveries are still to come," says Heller, "in terms of people measuring their bodily functions, for example, and finding out what helps them and what disturbs them. This thing is not going to go away. It will become more and more important and a integral part of many people's lives."
Life-long logging
But for someone who has had to log his blood-sugar levels every few hours for so many years, mySugr co-developer Frank Westermann is keen to suggest that data should be classified in different ways.
"We are classified as a medical device. We are a regulated product," he says. "You have to distinguish between a fitness tracking application and wearable sensors and health sensors. These fitness tracking apps, and their data, are not as sensitive as diabetes data, and they are also treated differently by the regulatory bodies."
"I'm doing life logging for another reason - to simply improve a very hard fact of my health. Although with MySugr we've introduced fun and excitement into diabetes therapy, for me it still is a struggle to work with my diabetes," says Westermann.
Self-tracking apps have made it easier for people with chronic illnesses to understand their bodies by simplifying how they track their health stats. But there may yet be a price to pay - if users start losing control of their data.