Borussia Dortmund have been here before. In January 2014, they announced that Robert Lewandowski, the prolific Pole who'd scored 66 league goals in the previous three seasons, was off.
With Lewandowski bound for Bayern Munich, Dortmund had until the end of the season to find a replacement. At that point they plumped for Ciro Immobile, who'd scored 22 goals in Serie A the previous season. Immobile was a flop and, when Dortmund could persist with him no more, they moved a winger called Pierre-Emerick Aubameyang - who'd arrived to much less fanfare a year earlier - in to a more central role.
Read more: Arsenal sign Pierre-Emerick Aubameyang for €64 million
Michy Batshuayi joins Dortmund on season long loan
The Gabon striker never looked back. He scored 11 in the 17 post-winter break games of the 2014/15 Bundesliga season and followed it up with goal tallies of 25 and 31 for the next two campaigns and 13 from 16 games so far this time around. Aubameyang has scored almost a third of Dortmund's goals this season and almost half the season before that. Cologne, their opponents on Friday night, know just how crippling losing such a reliable marksman can be.
As well as his goals, BVB have become heavily reliant on Aubameyang's pace and movement to stretch defenses and allow them to spring the rapid counter attacks employed by both Jürgen Klopp, Thomas Tuchel and - to a lesser extent - Peter Bosz.
Fast start required
The mooted arrival of Olivier Giroud, who eventually ended up at Chelsea, would have necessitated a dramatic change of style but, with Michy Batshuayi as the spearhead, Dortmund coach Peter Stöger will hope the alterations won't be so drastic. With trips to Borussia Mönchengladbach, Atalanta and RB Leipzig in the next month, and Dortmund currently sitting outside the top four, the Belgian must hit the ground running.
That's something he never quite managed at Chelsea. Purchased as a back up, first to Diego Costa and then to Alvaro Morata, Batshuayi never really got a run in the English champion's side. Coach Antonio Conte, who has little input in Chelsea's transfers, was clearly unimpressed with his forward, often preferring Eden Hazard in an unfamiliar striker's role when he was without Costa or Morata.
Judging by Michael Zorc's comments after the transfer, Dortmund don't seem entirely convinced by the long term value of their new man either.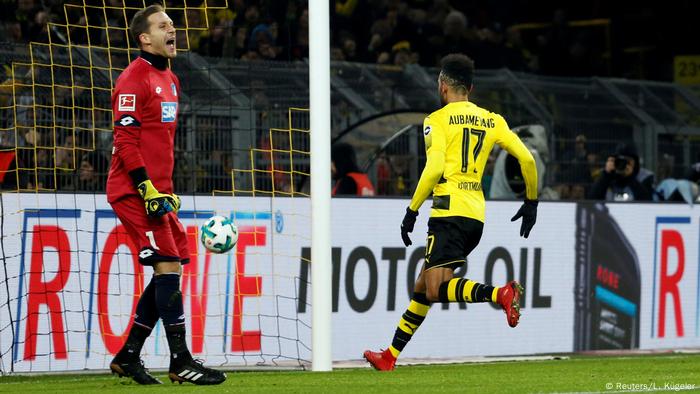 Dortmund will need to replace Pierre-Emerick Aubameyang's goals
"We were not willing to splash out millions on a new number 9 under pressure," the club's sporting director told German local outlet Der Westen. "We made a conscious decision for a loan because the market is tight in the winter. We looked closely at several attackers. Michy Batshuayi is a very good solution."
Despite those doubts and a dearth of opportunites, Batshuayi's goalscoring record was impressive in England. He averaged a goal every 88.5 minutes in the Premier League, behind only Harry Kane by that measure, and sealed the title for the London club with a goal against West Brom last year.
Stöger rates new man
Those statistics have impressed Stöger a little more than they did Zorc. "Michy is a striker that is a threat in the box," the Austrian coach said on Thursday. "He performed very well during the little time he had. He fits our idea and our style."
Stöger's last point is the pertinent one. While he lacks the electric pace of Aubameyang, 24-year-old Batshuayi is quick enough to trouble teams willing to play a high line and his upper body strength and height make him an aerial threat. But his first touch and awareness of teammates leave something to be desired, something he'll have to work on to fit in with technical players like Shinji Kagawa, Mario Götze and the injured Marco Reus, once the Robin to Aubameyang's Batman.
As well as a desire to prove himself, Batshuayi has motivation in the form of the upcoming World Cup, where Belgium are among the favorites. "In order to achieve my big objective, I want to play as much as possible and score many goals," he said on Wednesday. "The World Cup is taking place in the summer."
While Aubameyang's bridges in Dortmund had been razed to the ground with a series of disciplinary issues over the last year or so, his colorful personality once made him a popular, if divisive, figure among Dortmund fans.
Batshuayi also appears to be a gregarious character, with his light-hearted social media presence suggesting he has the personality to step in to his predecessor's sparkling shoes. Successive games against the Bundesliga's bottom two (Cologne and Hamburg) offer him the chance to become the new Batman, even if Robin is out of action. Can he become the hero Dortmund need?