An annual parade of flat-screen televisions, sleek digital cameras and mobile phones with all the extras, this year's IFA has been expanded to include home appliances such as dishwashers and stoves.
That reflects the fact that many electrical retailers -- the main target of the show -- sell both types of product. Many big electrical conglomerates, which pay for the show, make both sorts of device too.
Underlining the importance of electrical products in keeping consumer spending brisk as an economic recession looms, German Chancellor Angela Merkel was set Thursday evening to take time away from her desk to inaugurate IFA.
The event opens to buyers from all over Europe on Friday and continues until next Wednesday.
The arrival of home appliances at IFA brings green issues squarely into the event.
In recent years, makers of televisions and battery-driven devices have joined the fashion for energy-saving, but their products have only a tiny effect on global warming. The major power users in modern homes are ovens, washing machines and dishwashers.
Industry figures said this week that appliances suck up two thirds of the electricity used in European homes.
At IFA, the appliances division of German company Siemens this week described power saving as the industry's "mega-trend" and introduced stickers that will persuade shoppers to buy thrifty new appliances and save money.
Cleaner cutlery, cleaner clothes, cleaner energy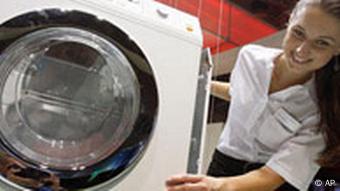 Many manufacturers are focusing on energy saving
Siemens executive Roland Hagebucher said these would include a dishwasher that uses a zeolite mineral to speed up drying of pots and plates, also cutting power use. Clothes dryers, which are notoriously thirsty on power, have also had a makeover.
Bosch claims its EcoLoggixx 7 model, which uses heat-pump technology, uses 40 percent less power than dryers currently rated as environmentally friendly under European Union standards.
Reinhard Zinkann, who heads the home-appliances section of Germany's ZVEI electrical industry federation, said: "Appliance sales are going in opposing directions in Europe right now. Sales are declining in major markets such as Italy, Spain and Britain, whereas they are gaining in France and Eastern Europe.
"In Germany, even though shoppers are very leery of spending in general right now, we expect to grow sales 4 percent this year because buyers are coming back to leading brands and better quality," he said.
He said manufacturers were well prepared to meet rising demand for products that crimp energy use, as consumers absorb the message that their heavy electricity use causes bigger worldwide emissions of carbon dioxide from fossil-fuel power stations.
New focus on focus
Visual electronic arts are the most sought-after items
Among leisure devices, IFA this year will feature camcorders with ever-bigger memories. One, according to manufacturer Sony, can recognize smiling faces and photograph people at their best, rather than when they blink or frown.
A rash of new global-positioning devices to improve navigation in cars will also be on show, along with thin flat-panel televisions, pocket music-players and digital cameras in all variations.
The growth of IFA, which rivals the Consumer Electronics Show (CES) held every January in Las Vegas, Nevada, has outstripped the space available in the big concrete pavilions at the Berlin fairgrounds.
A bigger IFA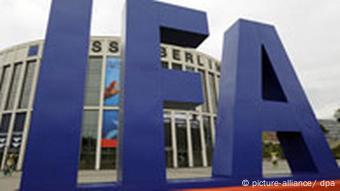 IFA has expanded for 2008
The organizers have set up 11,000 square meters (118,400 square feet) of temporary extra space this year in tent-like buildings which include the Taiwan Excellence Pavilion, a showcase for 70 products from Taiwanese electrical manufacturers which have won design awards.
At 122,000 square meters, total booth space booked at IFA marks a record for the fair. The event this year features 1,245 manufacturers from 63 nations, with newcomers from Thailand, Indonesia, Vietnam, Brazil, Argentina and Colombia.
Last year, exhibitors reported taking 2.75 billion euros ($4.07 billion) in orders from merchants, and organizers said this week that 2008 ordering was likely to outstrip that.